Each Little Fun Club box contains two or three age appropriate, curated books that will help you raise a reader.
Before making our selections each book goes through a review process where we consider the subject, author(s), awards, and price of a prospective book. Each book is read and discussed by Little Fun Club team before it is included in a subscription box for any age category. These can be favorite books that come from different experiences of our staff from childhood to education to simple different book lists from leading libraries and book clubs, or new titles just off the press recommended to us by our publishing partners, etc.
Once we know a title we go through our vendor network to source the exact book we have fallen in love with to secure large enough quantities for our subscriber base.
Each box is assigned individually by one of our associates. Each title assigned to your account is tailored to your child's needs. We are manually assigning books to each account so that we can take into account data points you provide during signs up as well as any feedback we receive from you regarding the previous boxes. We are not running an assembly line and our boxes are compiled with your child in mind.
Not only we take into consideration the age of the child, but also all the information you provide about the child so that the box is as perfect as it can be. If your child is interested in nature or trucks or trains or fairytales or classics, awesome! We are on a mission to get the best train book you can find, that's not only talking about trains but has educational value (Little engine that could by Watty Piper).
The final product is a box filled with education, fun and opportunities for positive child development. We work hard and take our time to make sure each box is just right before it is sent out.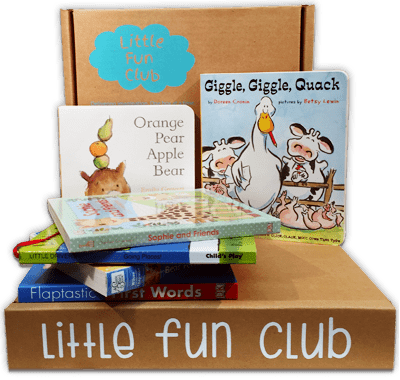 Each box contains three or two age appropriate books.
Here are a some titles included in boxes that we have sent.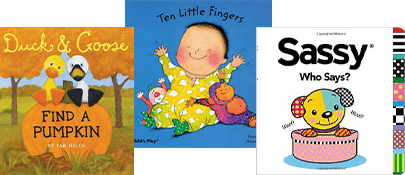 0 to 1 year old
Duck and Goose Find a Pumpkin by Tad Hills
Duck and Goose, where is your pumpkin? Is it in the log? Is it under the leaves? Is it in the apple tree? Preschoolers will surely enjoy going on a pumpkin hunt with Duck and Goose . . . especially when they find the perfect pumpkin at the end!
Ten Little Fingers by by Annie Kubler
This award winning series has been specifically designed for babies. A great introduction to books through well-known nursery rhymes and interactive text. Singing songs and rhymes is the perfect way to bond with your baby and share quality time. It also aids language development by introducing them to the natural sounds and patterns of speech. Combining these with actions also stimulates the brain and helps muscle development.
Who Says? (Sassy) by Dave Aikins
Babies 3 months or older will love to learn all about the sounds different animals make in this adorable board book featuring bright illustrations and simple text.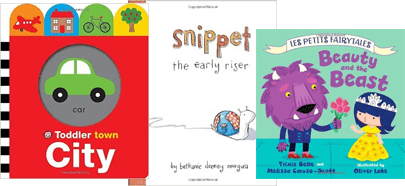 1 to 2 years old
Toddler Town: City by Roger Priddy
What things can you see in the city? This new series of illustrated board books provides an ideal introduction to city life for toddlers who are just beginning to discover the world around them. The pages feature die-cut holes for young readers to look through, so that they can see part of what is happening on the next out-and-about scene.
Snippet the Early Riser by Bethanie Murguia
Snippet is a typical snail. But unlike other snails, he loves to wake up early. While his family is snoozing the morning away, he is wide awake and ready to race to the flowers, make leaf sculptures, and get piggyback rides. With the help of his bug friends, he tries and tries to wake his family up—but nothing works. Until Caterpillar gives him an idea.
Celebrating early birds and late snoozers alike, this story will ring true for the many families with little early risers. It's the perfect tale to fall asleep (or wake up!) to.
Beauty and the Beast by Trixie Belle
Discover the magic of Beauty and the Beast in this petite edition of the classic fairy tale, created especially for little readers with just a handful of words and bright, enchanting illustrations.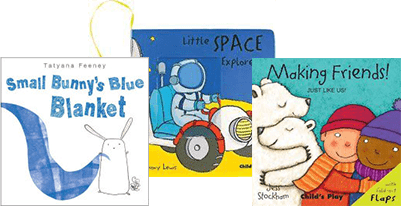 2 to 3 years old
Small Bunny's Blue Blanket by Tatyana Feeney
Small Bunny does everything with Blue Blanket. Blue Blanket helps him paint the best pictures, go the highest on the swings, and read the hardest words. They need each other. But one day, Small Bunny's mother insists Blue Blanket needs to be washed. She says Blue Blanket will be as good as new after. But Bunny isn't sure he likes new. Will his friend ever be the same?
Little Space Explorers by Anthony Lewis
Let's explore! Slip the double-sided figure into the acetate pocket to enjoy all manner of exciting activities. Travel into space in this innovative board book. Helps to develop motor skills, as well as promoting discussion and helping to combat gender stereotypes.
Making Friends! by Jess Stockham
Toddlers will love lifting the flaps in these delightful board books to find out all about themselves! Focusing on friendship, play, relaxation and cooperation, these lift-the-flap books encourage conversation.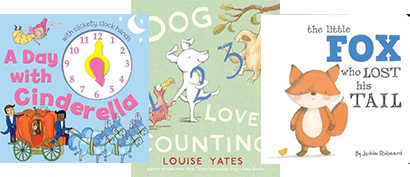 3 to 4 years old
A day with Cinderella by Gemma Cooper
Follow Cinderella on her magical fairy-tale day and learn how to tell time with an easy-to-read clock face and clickety clock hands!
Dog Loves Counting by Louise Yates
Dog can't go to sleep. He loves books so much that he just can't stop reading. Dog tries counting sheep, but it's not working—perhaps there are some other creatures he can count? Soon Dog is off on an adventure, finding friends and numbers in unexpected places.
Meet Dog and let him show you why he LOVES COUNTING!
The Little Fox Who Lost His Tail by Jedda Robaard
Little Fox is having a very unusual day. He has lost something very important to him—his tail! Join Little Fox on his adventures as he searches for his missing tail.
Little Fox has lost his tail! Can you help him find it? Children can lift the flaps to help Little Fox find his missing tail. Is it in the closet? Can it be in the attic? Where could it be? Filled with adorable illustrations by Jedda Robaard, this amusing, interactive adventure is perfect for parents and children to share.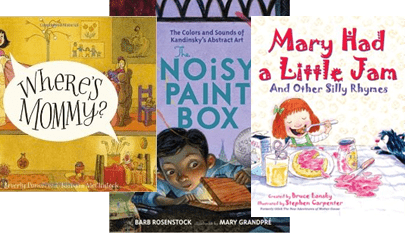 4 to 5 years old
Where's Mommy? by Beverly Donofrio
In this companion to the acclaimed picture book Mary and the Mouse, the Mouse and Mary, Maria (Mary's daughter) and Mouse Mouse (Mouse's daughter) are looking for their mothers. They're not in their bedrooms, their car and cart are still in the driveway, and they are not in the gazebo or under the mushroom! Where could they be?
The Noisy Paint Box by Barb Rosenstock and Mary Grandpre
Vasya Kandinsky was a proper little boy: he studied math and history, he practiced the piano, he sat up straight and was perfectly polite. And when his family sent him to art classes, they expected him to paint pretty houses and flowers—like a proper artist.
Mary Had a Little Jam by Bruce Lansky and Stephen Carpenter
These all-new, delightfully silly nursery rhymes recount the latest adventures of Jack and Jill, Humpty Dumpty, Old King Cole, Old Mother Hubbard, Little Boy Blue, Little Bo-Beep, and other best-loved Mother Goose characters. Children have been waiting for this sequel for over 200 years.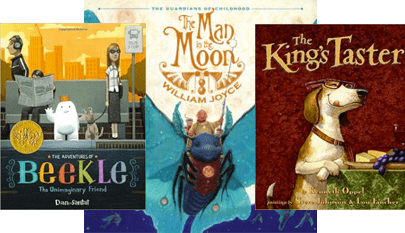 5 to 6 years old
The Adventures of Beekle: The Unimaginary Friend by Dan Santat
This magical story begins on an island far away where an imaginary friend is born. He patiently waits his turn to be chosen by a real child, but when he is overlooked time and again, he sets off on an incredible journey to the bustling city, where he finally meets his perfect match and-at long last-is given his special name: Beekle.
Man in the Moon by William Joyce
In the first book of a multibook series, find out how a round, jolly baby became the great white hope of the Milky Way—and ringleader of the Guardians of Childhood.
The King's Taster by Kenneth Oppel and Lou Fancher
Max is the cook's dog. And because he is also the king's taster, Max gets to feast on French Fries! Rose Pudding! Cheese Pie! Pizza! No wonder Max loves his job.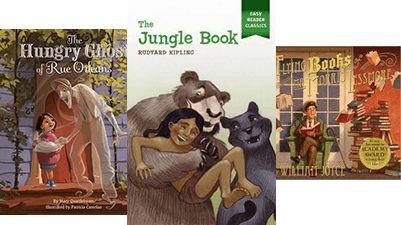 6 to 7 years old
The Hungry Ghost of Rue Orleans by Mary Quattlebaum
Who's afraid of Fred the ghost? Unfortunately, no one!
Fred the ghost is perfectly happy haunting his lonely old New Orleans house until Pierre and his daughter Marie move in and turn the house into . . . (horrors!) . . . a restaurant. They clean up his beloved dust. They fix the house's squeaks and leaks. And as much as Fred clanks and groans and haunts and moans, not one single diner is scared away. In fact, no one even notices him. Is it time for Fred to find a new home?
The Jungle Book by Rudyard Kipling
Rudyard Kipling's beloved adventure stories, set in the Indian jungle, have captivated children for over a century. With unforgettable characters that range from a little boy raised by wolves to a curious mongoose who saves the day by scaring away a deadly snake, Kipling's classic work has timeless appeal.
The Fantastic Flying Books of Mr. Morris Lessmore by William Joyce
The book that inspired the Academy Award–winning short film, from New York Times bestselling author and beloved visionary William Joyce. The Fantastic Flying Books of Mr. Morris Lessmore is a modern masterpiece, showing that in today's world of traditional books, eBooks, and apps, it's story that we truly celebrate—and this story, no matter how you tell it, begs to be read again and again.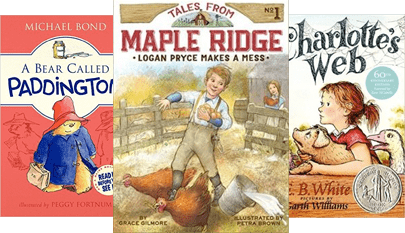 7 to 8 years old
Paddington Bear Classic Adventures by Michael Bond and Peggy Fortnum
Paddington Bear had just traveled all the way from Peru when the Brown family first met him at Paddington Station. Since then, their lives have never been quite the same . . . for ordinary things become extraordinary when Paddington is involved.
Tales from Maple Ridge: Logan Pryce Series by Grace Gilmore
Meet Logan Pryce, an eight-year-old boy whose family hardships are made better by his small-town community in this start to a wholesome series that's like Little House on the Prairie for younger readers.
Charlotte's Web by E. B. White and Garth Williams
This beloved book by E. B. White, author of Stuart Little and The Trumpet of the Swan, is a classic of children's literature that is "just about perfect."
Some Pig. Humble. Radiant. These are the words in Charlotte's Web, high up in Zuckerman's barn. Charlotte's spiderweb tells of her feelings for a little pig named Wilbur, who simply wants a friend. They also express the love of a girl named Fern, who saved Wilbur's life when he was born the runt of his litter.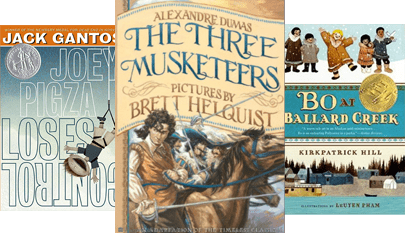 8 to 9 years old
Joey Pigza Loses Control by Jack Gantos
WALA_Notable_Sealhen Joey Pigza meets his dad for the first time in years, he meets a grown-up version of his old out-of-control self. Carter Pigza is as wired as Joey used to be -- before his stint in special ed, and before he got his new meds.
Joey's mom reluctantly agrees that he can stay with his dad for a summer visit, which sends Joey racing with sky-high hopes that he and Carter can finally get to know each other.
The Three Musketeers by Alexandre Dumas and Will Hobson
The young Gascon d'Artagnan and the legendary musketeers Athos, Porthos and Aramis are ready to sacrifice everything for love, glory and the common good. The wicked machinations of Cardinal Richelieu and his accomplice, the magnetic Milady de Winter, propel the devoted friends across seas and battlefields from masked balls to a remote convent, in order to defend the honour of the Queen and the life of Constance Bonacieux, d'Artagnan's true love.
Bo at Ballard Creek by Kirkpatrick Hill and LeUyen Pham
Bo's family is not the usual, ordinary sort of family, because she didn't get it in the usual, ordinary way.
She was headed for a lonely Alaska orphanage when she won the hearts of two tough gold miners who set out to raise her, enthusiastically helped by the other miners, the good-time girls, and all the kind people of the nearby Eskimo village on the Koyukuk River.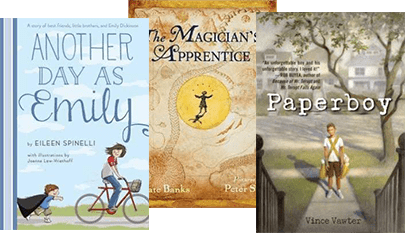 9 to 10 years old
Another Day as Emily by Eileen Spinelli
"Taut, fast-paced, economical, devoid of sham, Spinelli's book echoes Dickinson's own deceptive simplicity."--The New York Times Book Review
Eleven-year-old Suzy just can't win. Her brother is a local hero for calling 911 after seeing their elderly neighbor collapse, and only her best friend was able to win a role in the play they both auditioned for. Feeling cast aside from all angles, Suzy sees a kindred spirit in Emily Dickinson, the subject of her summer project. Suzy decides to escape from her disappointments by emulating the poet's life of solitude: no visitors or phone calls (only letters delivered through her window), no friends (except her goldfish, Ottilie), and no outings (except church, but only if she can wear her long white Emily dress).
The Magician's Apprentice by Kate Banks
Baz has always dreamed about following his two older brothers out of his dusty little town, so when a stranger comes to his family's home and asks him to be a weaver's apprentice, Baz is eager to start his journey. But when he reaches the village of Kallah and starts his apprenticeship, Baz learns that his master is very cruel. And when the master trades Baz to a magician for a sword, Baz expects no better from his new owner. But as Baz travels with this kind-hearted and wise magician, their journey takes him across the desert, up a mountain, and into the depths of life's meaning. He learns to re-examine his beliefs about people, the world, and himself, discovering that the whole world is connected and no person can ever be owned.
Paperboy by Vince Vawter
This Newbery Honor winner is perfect for fans of To Kill a Mockingbird, The King's Speech, and The Help. A boy who stutters comes of age in the segregated South, during the summer that changes his life.
Little Man throws the meanest fastball in town. But talking is a whole different ball game. He can barely say a word without stuttering—not even his own name. So when he takes over his best friend's paper route for the month of July, he's not exactly looking forward to interacting with the customers. But it's the neighborhood junkman, a bully and thief, who stirs up real trouble in Little Man's life.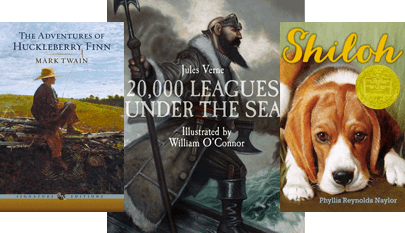 10 to 11 years old
The Adventures of Huckleberry Finn by Mark Twain,
One of the most popular books of all-time, "Adventures of Huckleberry Finn" has been both venerated and vilified since it was first published in 1885. The story of a young abused boy on the run and his friendship with a runaway slave is about loyalty, compassion, and doing what is right, and it remains one of Mark Twain's greatest achievements. Now available as part of the Word Cloud Classics series, "Adventures of Huckleberry Finn" is a must-have addition to the libraries of all classic literature lovers.
20,000 Leagues Under the Sea by Verne, Jules
Go 20,000 Leagues Under the Sea with Sterling's Illustrated Classics series, and see Jules Verne's fantastic water-world as never before: through more than 70 stunning steampunk images illustrated by the incredible William O'Connor. Originally published in 1870, Verne's amazing adventure is one of the earliest sci-fi novels ever written—and one of the most popular. Come on board the Nautilus and plunge below the waves with Captain Nemo on a voyage of exploration and imagination.
Shiloh by Phyllis Reynolds Naylor
Eleven-year-old Marty Preston loves to spend time up in the hills behind his home near Friendly, West Virginia. Sometimes he takes his .22 rifle to see what he can shoot, like some cans lined up on a rail fence. Other times he goes up early in the morning just to sit and watch the fox and deer. But one summer Sunday, Marty comes across something different on the road just past the old Shiloh schoolhouses -- a young beagle -- and the trouble begins.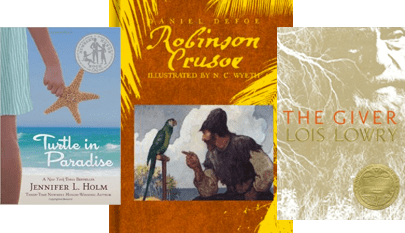 11 to 12 years old
Turtle in Paradise by Jennifer L. Holm
In Jennifer L. Holm's New York Times bestselling, Newbery Honor winning middle grade historical novel, life isn't like the movies. But then again, 11-year-old Turtle is no Shirley Temple
She's smart and tough and has seen enough of the world not to expect a Hollywood ending. After all, it's 1935 and jobs and money and sometimes even dreams are scarce. So when Turtle's mama gets a job housekeeping for a lady who doesn't like kids, Turtle says goodbye without a tear and heads off to Key West, Florida to live with relatives she's never met.
Robinson Crusoe by Daniel Defoe
Dive in to the ultimate tale of shipwreck and survival in this illustrated, finely crafted keepsake edition of the classic adventure story that has thrilled readers for nearly three centuries.
After a fierce storm at sea, Robinson Crusoe is marooned on an uncharted island, with only a few bits of his wrecked ship's flotsam and jetsam to sustain him. For more than two decades, he faces the wrath of nature and the struggle to stay alive with little more than his wits to save him. Then, following an encounter with cannibals, a tribesman named Friday becomes Crusoe's only ally. As their relationship develops, the line between servant and friend begins to blur, and the possibility of freedom for them both at last looms on the horizon.
The Giver by Lois Lowry
The Giver, the 1994 Newbery Medal winner, has become one of the most influential novels of our time. The haunting story centers on twelve-year-old Jonas, who lives in a seemingly ideal, if colorless, world of conformity and contentment. Not until he is given his life assignment as the Receiver of Memory does he begin to understand the dark, complex secrets behind his fragile community. Lois Lowry has written three companion novels to The Giver, including Gathering Blue, Messenger, and Son.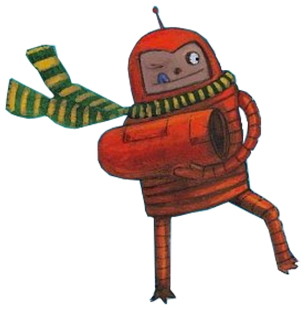 Can't Decide Which Books to Choose for Your Child?
Let our friendly staff hand-select books based on your child's age and preferences. Join our subscription service, and we'll send 2-3 books to your door once a month.