You are going to be dropping your child off to the first day of school soon! They are starting kindergarten and their world is going to expand by leaps and bounds over the next year. Our boxes for this age category include award winning titles that encourage healthy social interactions, create new friendships, and problem solving skills.
Sebastian and the Balloon by Philip C. Stead
On a boring day, on a dull street, Sebastian sat high atop his roof―something he was never supposed to do. When he launched himself into the air in his balloon made of Grandma's afghans and patchwork quilts, his journey took on a life of its own and his boring day turned into the adventure of a lifetime.
From award-winning author/illustrator Philip C. Stead, comes another timeless adventure with his trademark whimsical illustrations and an unwavering spirit.
A Neal Porter Book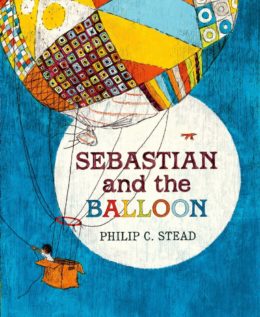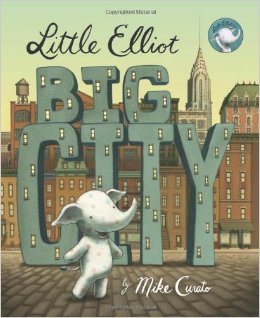 Jack Frost (The Guardians of Childhood) by William Joyce
Discover how Jack Frost keeps the hearts of children happy in the third picture book in Academy Award winner William Joyce'sNew York Times bestselling and "dazzlingly inventive" (Publishers Weekly) The Guardians of Childhood series.
Before Jack Frost was Jack Frost, he was Nightlight, the most trusted and valiant companion of Mim, the Man in the Moon. But when Pitch destroys Mim's world, he nearly destroys Nightlight too, sending him plunging to Earth where, like Peter Pan, he is destined to remain forever a boy, frozen in time. And while Nightlight has fun sailing icy winds and surfing clouds, he is also lonely without his friend Mim. To keep the cold in his heart from taking over, he spreads it to the landscapes around him and earns a new name: Jack Overland Frost.
But a true friend always comes through, and on one particularly bleak night, Mim shines down and shows Jack a group of children in great peril. Through helping them, Jack finds the warmth he's been yearning for, and realizes bringing joy to others can melt his own chill. It is this realization—that there will always be children who need moments of bravery, who need rosy cheeks, who need to build snowmen, and who are then eager for a spring day—that makes Jack realize why he is a forever boy, and worthy of becoming a Guardian of Childhood.
Tuesday by David Wiesner
1991 CALDECOTT MEDAL

David Wiesner received the 1991 Caldecott Medal for Tuesday. In the years that followed, he went on to receive two more Caldecotts, and Tuesday went on to sell half a million copies in the United States and to be published in a dozen foreign countries. Now, with remarkable advances in the technology of color reproduction, the original artwork for Tuesday is being reproduced anew, for an edition even more faithful to the palette and texture of David Wiesner's watercolor paintings. The whimsical account of a Tuesday when frogs were airborne on their lily pads will continue to enchant readers of all ages.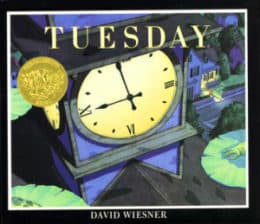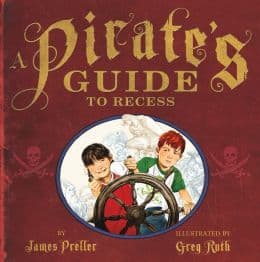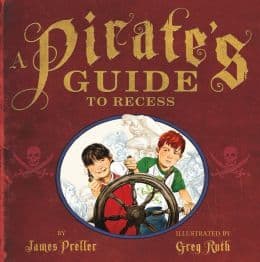 Pirate's Guide to Recess by James Preller and Greg Ruth
Ahoy, mateys!
It's time for recess, and the schoolyard is teeming with young pirates ready for action. Who will rule the stormy seas of the playground? Recess has never been such an adventure!
The Giant Book of Giants by Saviour Pirotta and Mark Robertson
GIANT poster, GIANT stories, GIANT fun!
With an incredible, huge, interactive poster and six adventurous stories, The Giant Book of Giants is larger than life!
The pop-up, pull-out poster in this BIG tome measures over four feet tall--and offers plenty of playful extras, including flaps to lift and removable items such as a clock tower pocket watch, pipe organ harmonica, and even the giant's ear wax! The action-packed tales in the book include "Jack and the Beanstalk," "Sinbad's Third Voyage," and "Coyote Tricks the Giant." Monster fun for any child--tall or small!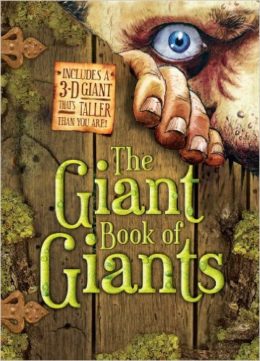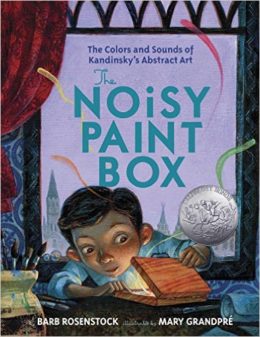 The Noisy Paint Box by Barb Rosenstock and Mary Grandpre
A Caldecott Honor Book
Vasya Kandinsky was a proper little boy: he studied math and history, he practiced the piano, he sat up straight and was perfectly polite. And when his family sent him to art classes, they expected him to paint pretty houses and flowers—like a proper artist.
But as Vasya opened his paint box and began mixing the reds, the yellows, the blues, he heard a strange sound—the swirling colors trilled like an orchestra tuning up for a symphony! And as he grew older, he continued to hear brilliant colors singing and see vibrant sounds dancing. But was Vasya brave enough to put aside his proper still lifes and portraits and paint . . . music?

In this exuberant celebration of creativity, Barb Rosenstock and Mary GrandPré tell the fascinating story of Vasily Kandinsky, one of the very first painters of abstract art. Throughout his life, Kandinsky experienced colors as sounds, and sounds as colors—and bold, groundbreaking works burst forth from his noisy paint box.
The Mischievians by William Joyce
Where's my homework? Who took my other sock? What's that in my belly button? The creators of the #1 New York Times bestselling and Academy Award–winning The Fantastic Flying Books of Mr. Morris Lessmore have found the answers to these and other life mysteries…and no, it's not your fault!
Strange smells. Disappearing remotes. That itch you just can't reach. It's not your fault! It's the Mischievians, an ancient race of global mischief-makers who do all the things that embarrass you. All the things that bug you. All the things that YOU get blamed for!
There is no cause for alarm (sorta). Come meet the Homework Eater, the fiend who steals your homework! See the Endroller, the villain who uses up ALL the toilet paper! Discover the Yawn Mower, the creature who makes you yawn at the worst possible time! And many, many more. Read on, and be free.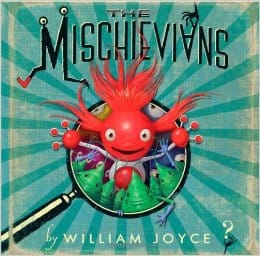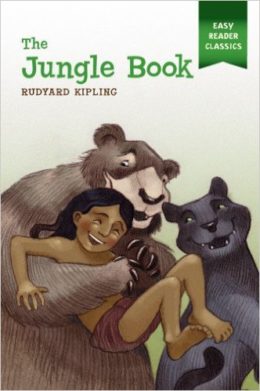 The Jungle Book (Easy Reader Classics) by Rudyard Kipling
Rudyard Kipling's beloved adventure stories, set in the Indian jungle, have captivated children for over a century. With unforgettable characters that range from a little boy raised by wolves to a curious mongoose who saves the day by scaring away a deadly snake, Kipling's classic work has timeless appeal.
Wind in the Willows (Easy Reader Classics) by Kenneth Grahame
Mole, Water Rat, Badger, and, of course, Toad of Toad Hall: these characters have captivated children for over a century. Join Kenneth Grahame's classic cast of animal friends as they enjoy life on the river; hit the road in Toad's brand-new cart; get lost in the dark; and have adventures in the Wild Wood. These enchanting and humorous tales provide timeless enjoyment.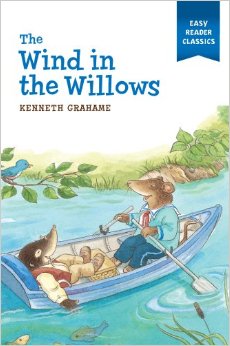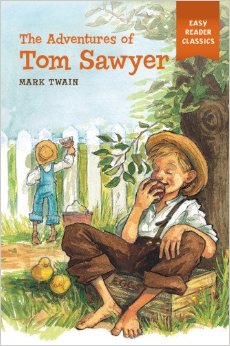 The Adventures of Tom Sawyer (Easy Reader Classics) by Mark Twain
Mark Twain's beloved classic gets a charming easy-to-read version. Simply told and beautifully illustrated, it transports kids to the banks of the Mississippi and introduces them to Twain's irrepressible, irresistible hero. Whether clever Tom is fooling his friends into painting a fence for him or making mischief in school or at a birthday party, his antics will delight young readers.  
Sylvester and the Magic the Pebble by William Steig
CALDECOTT MEDAL WINNER
Sylvester can't believe his luck when he finds a magic pebble that can make wishes come true. But

when a lion jumps out at him on his way home, Sylvester is shocked into making a wish that has unexpected consequences. After overcoming a series of obstacles, Sylvester is eventually reunited with his loving family. Illustrated with William Steig's glowing pictures, this winner of the Caldecott Medal is beloved by children everywhere.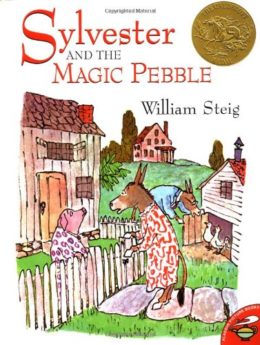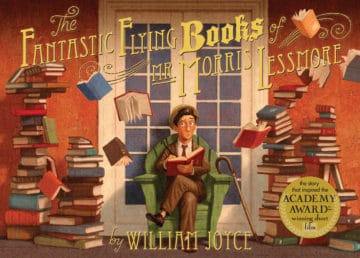 Fantastic Flying Books of Mr. Morris Lessmore by William Joyce and Joe Bluhm
The book that inspired the Academy Award–winning short film, from New York Timesbestselling author and beloved visionary William Joyce.
Morris Lessmore loved words.
He loved stories.
He loved books.
But every story has its upsets.
    Everything in Morris Lessmore's life, including his own story, is scattered to the winds.
But the power of story will save the day.
Stunningly brought to life by William Joyce, one of the preeminent creators in children's literature,The Fantastic Flying Books of Mr. Morris Lessmore is a modern masterpiece, showing that in today's world of traditional books, eBooks, and apps, it's story that we truly celebrate—and this story, no matterhow you tell it, begs to be read again and again.
Mousetranaut by Mark Kelly and C. F. Payne
A heartwarming picture book tale of the power of the small, from bestselling author and retired NASA astronaut Commander Mark Kelly.
Astronaut Mark Kelly flew with "mice-tronauts" on his first spaceflight aboard space shuttle Endeavour in 2001. Mousetronaut tells the story of a small mouse that wants nothing more than to travel to outer space. The little mouse works as hard as the bigger mice to show readiness for the mission . . . and is chosen for the flight! While in space, the astronauts are busy with their mission when disaster strikes—and only the smallest member of the crew can save the day. With lively illustrations by award-winning artist C. F. Payne, Mousetronaut is a charming tale of perseverance, courage, and the importance of the small!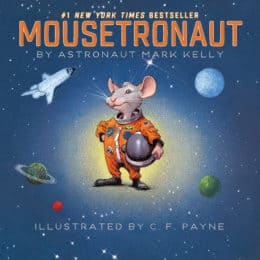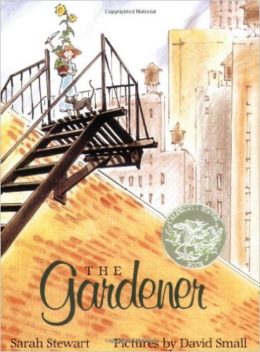 The Gardener by Sarah Stewart and David Small
1997 New York Times Book Review Notable Children's Book of the Year
1998 Caldecott Honor Book

Lydia Grace Finch brings a suitcase full of seeds to the big gray city, where she goes to stay with her Uncle Jim, a cantankerous baker. There she initiates a gradual transformation, bit by bit brightening the shop and bringing smiles to customers' faces with the flowers she grows. But it is in a secret place that

Lydia Grace works on her masterpiece -- an ambitious rooftop garden -- which she hopes will make even Uncle Jim smile. Sarah Stewart introduces readers to an engaging and determined young heroine, whose story is told through letters written home, while David Small's illustrations beautifully evoke the Depression-era setting.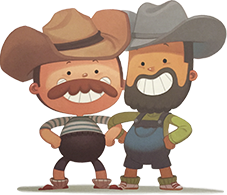 Can't Decide Which Books to Choose for Your Child?
Let our friendly staff hand-select books based on your child's age and preferences. Join our subscription service, and we'll send 2-3 books to your door once a month.