If you have a child at this age and he or she still reads pat yourself on the back! You've done a good job! Our subscription boxes with books for ages 9 to 10 come with classic titles, newly published stories, and award winning content that will be challenging and engaging.
The Mourning Emporium by Michelle Lovric
Venice is in peril. Bajamonte Tiepolo is back, and his baddened magic has spread across the globe, from the island of Hooroo in the South Pacific, all the way to London, where Queen Victoria lies dying.
Now two cities need saving by Teo, the Undrowned Child, and Renzo, the Studious Son of a Venetian prophecy. Time is running out as they try to unravel the mysteries threatening London and Venice. They meet mermaids and mourning children, giant squid, a talking bulldog, and the delectable, deceptive Miss Uish. But who is a friend, and who an enemy?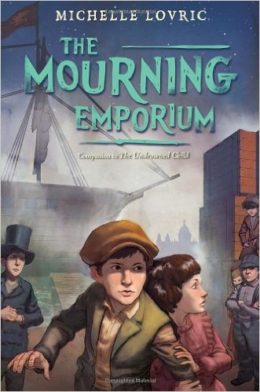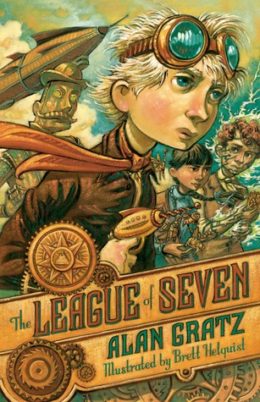 The League of Seven by Alan Gratz
The League of Seven is the first book in an action-packed, steampunk series by the acclaimed author of Samurai Shortstop, Alan Gratz.
In an alternate 1875 America electricity is forbidden, Native Americans and Yankees are united, and eldritch evil lurks in the shadows. Young Archie Dent knows there really are monsters in the world. His parents are members of the Septemberist Society, whose job it is to protect humanity from hideous giants called the Mangleborn. Trapped in underground prisons for a thousand years, the giant monsters have been all but forgotten―but now they are rising again as the steam-driven America of 1875 rediscovers electricity, the lifeblood of the Mangleborn. When his parents and the rest of the Septemberists are brainwashed by one of the evil creatures, Archie must assemble a team of seven young heroes to save the world.
The Adventures of Huckleberry Finn (Puffin Classics)
Referring to Adventures of Huckleberry Finn, H. L. Mencken noted that his discovery of this classic American novel was "the most stupendous event of my whole life"; Ernest Hemingway declared that "all modern American literature stems from this one book," while T. S. Eliot called Huck "one of the permanent symbolic figures of fiction, not unworthy to take a place with Ulysses, Faust, Don Quixote, Don Juan, Hamlet."
The novel's preeminence derives from its wonderfully imaginative re-creation of boyhood adventures along the mighty Mississippi River, its inspired characterization, the author's remarkable ear for dialogue, and the book's understated development of serious underlying themes: "natural" man versus "civilized" society, the evils of slavery, the innate value and dignity of human beings, the stultifying effects of convention, and other topics. But most of all,Adventures of Huckleberry Finn is a wonderful story ― filled with high adventure and unforgettable characters (including the great river itself) ― that no one who has read it will ever forget.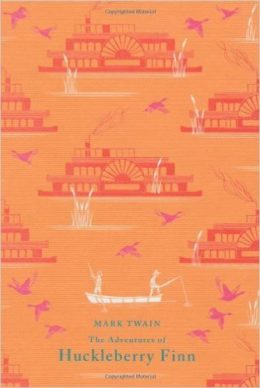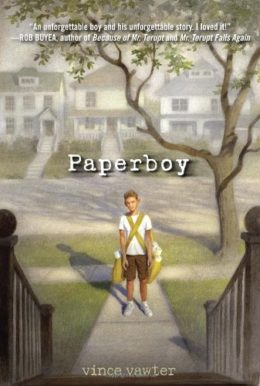 Paperboy by Vince Vawter
"Reminiscent of To Kill a Mockingbird." —Booklist, Starred
"An unforgettable boy and his unforgettable story. I loved it!" —ROB BUYEA, author of Because of Mr. Terupt and Mr. Terupt Falls Again
This Newbery Honor winner is perfect for fans of To Kill a Mockingbird,The King's Speech, and The Help. A boy who stutters comes of age in the segregated South, during the summer that changes his life.
Little Man throws the meanest fastball in town. But talking is a whole different ball game. He can barely say a word without stuttering—not even his own name. So when he takes over his best friend's paper route for the month of July, he's not exactly looking forward to interacting with the customers. But it's the neighborhood junkman, a bully and thief, who stirs up real trouble in Little Man's life.
Heidi (Puffin in Bloom) Johanna Spyri
At the age of five, little orphan Heidi is sent to live with her grandfather in the Alps. Everyone in the village is afraid of him, but Heidi is fascinated by his long beard and bushy grey eyebrows. She loves her life in the mountains, playing in the sunshine and growing up amongst the goats and birds. But one terrible day, Heidi is collected by her aunt and is made to live with a new family in town. Heidi can't bear to be away from her grandfather; can she find a way back up the mountain, where she belongs?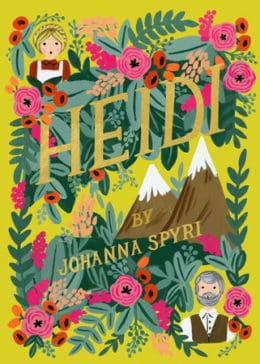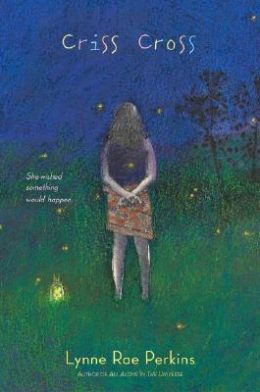 Criss Cross by Lynne Rae Perkins
Debbie is wishing something would happen. Something good. To her. Soon. In the meantime, Debbie loses a necklace and finds a necklace (and boy does the necklace have a story to tell), she goes jeans shopping with her mother (an accomplishment in diplomacy), she learns to drive shift in a truck (illegally), she saves a life (directly connected to being able to drive, thus proving something), she takes a bus ride to another town (in order to understand what it feels like to be from "elsewhere"), she meets a boy (who truly is from "elsewhere"), but mostly she hangs out with her friends: Patty, Hector, Lenny, and Phil. Their paths cross. Their stories crisscross. And in Lynne Rae Perkins's remarkable book, a girl and her wish grow up. Illustrated throughout with black–and–white pictures, comics, and photographs by the author.
Half a World Away by Cynthia Kadohata
A kid who considers himself an epic fail discovers the transformative power of love when he deals with adoption in this novel from Cynthia Kadohata, winner of the Newbery Medal (Kira-Kira) and the National Book Award (The Thing About Luck).
Eleven-year-old Jaden is adopted, and he knows he's an "epic fail." That's why his family is traveling to Kazakhstan to adopt a new baby—to replace him, he's sure. And he gets it. He is incapable of stopping his stealing, hoarding, lighting fires, aggressive running, and obsession with electricity. He knows his parents love him, but he feels...nothing.
When they get to Kazakhstan, it turns out the infant they've traveled for has already been adopted, and literally within minutes are faced with having to choose from six other babies. While his parents agonize, Jaden is more interested in the toddlers. One, a little guy named Dimash, spies Jaden and barrels over to him every time he sees him. Jaden finds himself increasingly intrigued by and worried about Dimash. Already three years old and barely able to speak, Dimash will soon age out of the orphanage, and then his life will be as hopeless as Jaden feels now. For the first time in his life, Jaden actually feels something that isn't pure blinding fury, and there's no way to control it, or its power.
From camels rooting through garbage like raccoons, to eagles being trained like hunting dogs, to streets that are more pothole than pavement, the vivid depictions in Half a World Away create "an inspiring story that celebrates hope and second chances" (Publishers Weekly, starred review).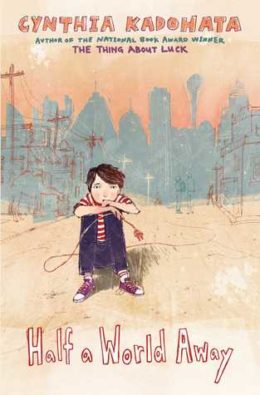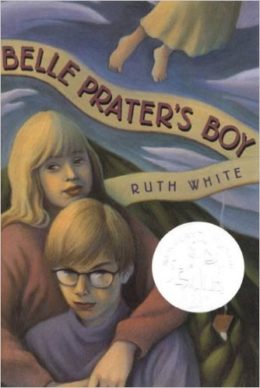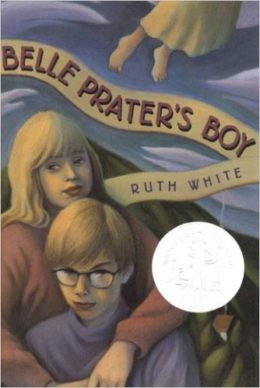 Belle Prater's Boy by Ruth White

"Around 5:00 a.m. on a warm Sunday morning on October 1953, my Aunt Belle left her bed and vanished from the face of the earth."
Everyone in Coal Station, Virginia, has a theory about what happened to Belle Prater, but twelve-year-old Gypsy wants the facts, and when her cousin Woodrow, Aunt Belle's son moves next door, she has her chance. Woodrow isn't as forthcoming as Gypsy hopes, yet he becomes more than just a curiosity to her-- during their sixth-grade year she finds that they have enough in common to be best friends. Even so, Gypsy is puzzled by Woodrow's calm acceptance of his mother's disappearance, especially since she herself has never gotten over her father's death. When Woodrow finally reveals that he's been keeping a

secret about his mother, Gypsy begins to understand that there are different ways of finding the strength to face the truth, no matter how painful it is.
"Belle Prater's Boy" is a 1996 Boston Globe - Horn Book Awards Honor Book for Fiction and a 1997 Newberry Honor Book.
Nicholas St. North and the Battle of the Nightmare by William Joyce and Laura Geringer
Don't miss The Rise of the Guardians, soon to be a major motion picture in theaters November 2012.
Before SANTA was SANTA, he was North, Nicholas St. North—a daredevil swordsman whose prowess with double scimitars was legendary. Like any swashbuckling young warrior, North seeks treasure and adventure, leading him to the fiercely guarded village of Santoff Claussen, said to be home to the greatest treasure in all the East, and to an even greater wizard, Ombric Shalazar. But when North arrives, legends of riches have given way to terrors of epic proportions! North must decide whether to seek his fortune…or save the village.
When our rebellious hero gets sucked into the chaos (literally), the fight becomes very personal. The Nightmare King and his evil Fearlings are ruling the night, owning the shadows, and sending waves of fear through all of Santoff Clausen. For North, this is a battle worth fighting...and, he's not alone. There are five other Guardians out there. He only has to find them in time.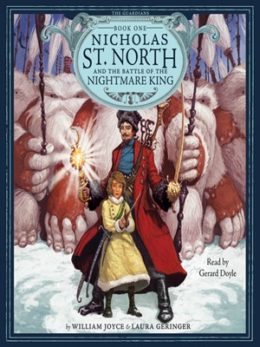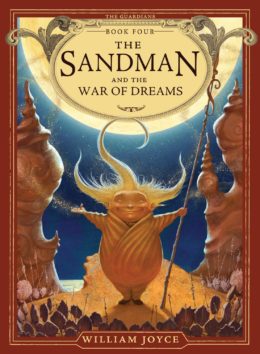 Sandman and the War of Dreams by William Joyce
In their fourth chapter book adventure, the Guardians recruit Sanderson ManSnoozy, the sleepy legend also known as the Sandman, to their cause.
When the Man in the Moon brought together the Guardians, he warned them that they would face some terrible evils as they strove to protect the children of earth. But nothing could have prepared them for this: Pitch has disappeared and taken Katherine with him. And now the Guardians are not only down one member, but a young girl is missing.
Fortunately, MiM knows just the man to join the team. Sanderson ManSnoozy—known in most circles as the Sandman—may be sleepy, but he's also stalwart and clever and has a precocious ability to utilize sand in myriad ways. If the other Guardians can just convince Sandy that good can triumph evil, that good dreams can banish nightmares, they'll have themselves quite a squad. But if they can't…they might never see Katherine again.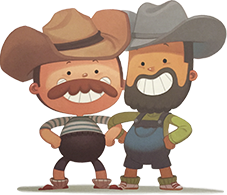 Can't Decide Which Books to Choose for Your Child?
Let our friendly staff hand-select books based on your child's age and preferences. Join our subscription service, and we'll send 2-3 books to your door once a month.