You are starting to see their curiosity flourish and their unique personalities emerge. Keep expanding their understanding of themselves and the world around them, with more chapter books and inspiring stories.
Oddfellow's Orphanage by Emily Winfield Martin
New York Times bestselling author Emily Winfield Martin brings a strange and wonderful place to life with her unique style of both art and writing.
What do an onion-headed boy, a child-sized hedgehog, and a tattooed girl have in common? They are all orphans at Oddfellow's Orphanage! This unusual and charming chapter book tells an episodic story that follows a new orphan, Delia, as she discovers the delights of her new home. From classes in Cryptozoology and Fairy Tale Studies to trips to the circus, from Annual Hair Cutting Day to a sea monster-sighting field trip, things at Oddfellows are anything but ordinary . . . except when it comes to friendships. And in that, Oddfellows is like any other school where children discover what they mean to each other while learning how big the world really is.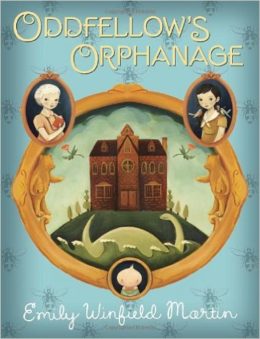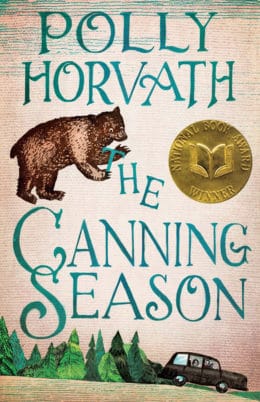 The Canning Season by Polly Horvath
Love under trying circumstances
One night out of the blue, Ratchet Clark's ill-natured mother tells her that Ratchet will be leaving their Pensacola apartment momentarily to take the train up north. There she will spend the summer with her aged relatives Penpen and Tilly, inseparable twins who couldn't look more different from each other. Staying at their secluded house, Ratchet is treated to a passel of strange family history and local lore, along with heaps of generosity and care that she has never experienced before. Also, Penpen has recently espoused a new philosophy – whatever shows up on your doorstep you have to let in. Through thick wilderness, down forgotten, bear-ridden roads, come a variety of characters, drawn to Penpen and Tilly's open door. It is with vast reservations that the cautious Tilly allows these unwelcome guests in. But it turns out that unwelcome guests may bring the greatest gifts.

By turns dark and humorous, Polly Horvath offers adolescent readers enough quirky characters and outrageous situations to leave them reeling!
The Canning Season is the winner of the 2003 National Book Award for Young People's Literature.
Young Fredle by Cynthia Voigt
Cynthia Voigt crafts a novel about discovery, perspective, and the meaning of home—all through the eyes of an affable and worried little mouse. Fredle is an earnest young fellow suddenly cast out of his cozy home behind the kitchen cabinets—into the outside. It's a new world of color and texture and grass and sky. But with all that comes snakes and rain and lawnmowers and raccoons and a different sort of mouse (field mice, they're called) not entirely trustworthy. Do the dangers outweigh the thrill of discovery? Fredle's quest to get back inside soon becomes a wild adventure of predators and allies, of color and sound, of discovery and nostalgia. And, as Fredle himself will come to understand, freedom.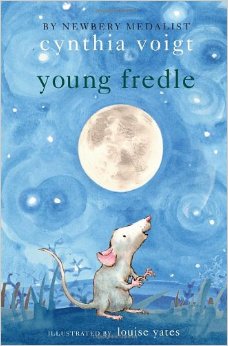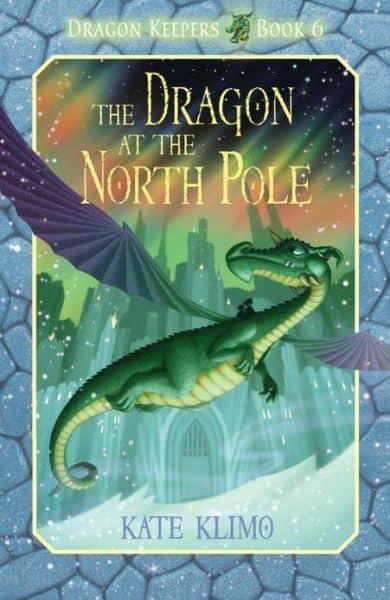 The Dragon at the North Pole by Kate Klimo
Perfect for readers who've finished Mary Pope Osborne's Magic Tree House series but who aren't quite ready for Harry Potter, this accessible fantasy series is imaginative and adventure-filled!
 
"Funny and wonderfully written. A tall-tale adventure that will grab readers!" —Mary Pope Osborne, author of the Magic Tree House series
 
In The Dragon at the North Pole, Dragon Keepers Jesse and Daisy wake on Christmas morning to a winter wonderland—it snowed overnight! Knowing that their dragon, Emmy, has never seen snow before, they hurry to the barn only to discover that she's disappeared. She's left a note behind: "Gone to help Santa." Santa?! Can it be true? With the help of two pairs of magic snowshoes, Jesse and Daisy visit the North Pole to find out!
The Magician's Apprentice by Kate Banks and Peter Sis
Baz has always dreamed about following his two older brothers out of his dusty little town, so when a stranger comes to his family's home and asks him to be a weaver's apprentice, Baz is eager to start his journey. But when he reaches the village of Kallah and starts his apprenticeship, Baz learns that his master is very cruel. And when the master trades Baz to a magician for a sword, Baz expects no better from his new owner. But as Baz travels with this kind-hearted and wise magician, their journey takes him across the desert, up a mountain, and into the depths of life's meaning. He learns to re-examine his beliefs about people, the world, and himself, discovering that the whole world is connected and no person can ever be owned.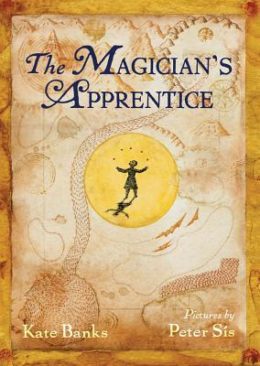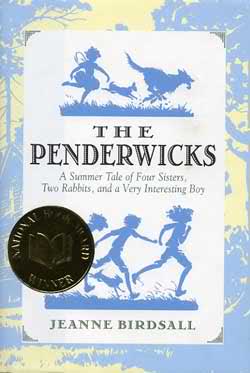 The Penderwicks by Jeanne Birdsall
With over one million copies sold, this series of modern classics about the charming Penderwick family from National Book Award winner and New York Times bestseller Jeanne Birdsall is perfect for fans of Noel Streatfeild and Edward Eager.
This summer the Penderwick sisters have a wonderful surprise: a holiday on the grounds of a beautiful estate called Arundel. Soon they are busy discovering the summertime magic of Arundel's sprawling gardens, treasure-filled attic, tame rabbits, and the cook who makes the best gingerbread in Massachusetts. But the best discovery of all is Jeffrey Tifton, son of Arundel's owne

r, who quickly proves to be the perfect companion for their adventures.
The icy-hearted Mrs. Tifton is not as pleased with the Penderwicks as Jeffrey is, though, and warns the new friends to stay out of trouble. Which, of course, they will—won't they? One thing's for sure: it will be a summer the Penderwicks will never forget.
Deliciously nostalgic and quaintly witty, this is a story as breezy and carefree as a summer day.
Moon Over Manifest by Clare Vanderpool
The movement of the train rocked me like a lullaby. I closed my eyes to the dusty countryside a

nd imagined the sign I'd seen only in Gideon's stories: Manifest—a town with a rich past and a bright future.
 
Abilene Tucker feels abandoned. Her father has put her on a train, sending her off to live with an old friend for the summer while he works a railroad job. Armed only with a few possessions and her list of universals, Abilene jumps off the train in Manifest, Kansas, aiming to learn about the boy her father once was.
Having heard stories about Manifest, Abilene is disappointed to find that it's just a dried-up, worn-out old town. But her disappointment quickly turns to excitement when she discovers a hidden cigar box full of mementos, including some old letters that mention a spy known as the Rattler. These mysterious letters send Abilene and her new friends, Lettie and Ruthanne, on an honest-to-goodness spy hunt, even though they are warned to "Leave Well Enough Alone."
Abilene throws all caution aside when she heads down the mysterious Path to Perdition to pay a debt to the reclusive Miss Sadie, a diviner who only tells stories from the past. It seems that Manifest's history is full of colorful and shadowy characters—and long-held secrets. The more Abilene hears, the more determined she is to learn just what role her father played in that history. And as Manifest's secrets are laid bare one by one, Abilene begins to weave her own story into the fabric of the town.
 
Powerful in its simplicity and rich in historical detail, Clare Vanderpool's debut is a gripping story of loss and redemption.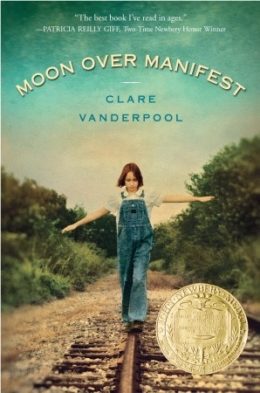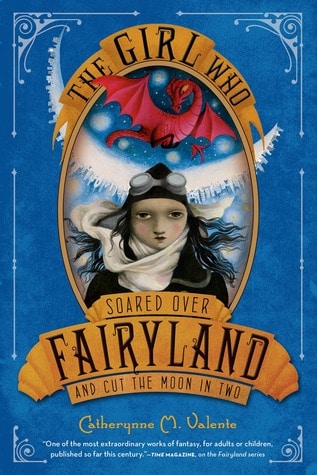 The Girl Who Soared Over Fairyland and Cut the Moon in Two by Catherynne M. Valente
"One of the most extraordinary works of fantasy, for adults or children, published so far this century."―Time magazine, on the Fairyland series
September misses Fairyland and her friends Ell, the Wyverary, and the boy Saturday. She longs to leave the routines of home and embark on a new adventure. Little does she know that this time, she will be spirited away to the moon, reunited with her friends, and find herself faced with saving Fairyland from a moon-Yeti with great and mysterious powers.
The Girl Who Soared Over Fairyland and Cut the Moon in Two is another rich, beautifully told, wisely humorous, and passionately layered book from New York Times–bestselling author Catherynne M. Valente.
Dead End in Norvelt by Jack Gantos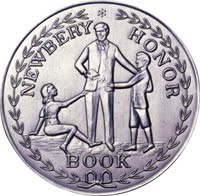 Dead End in Norvelt is the winner of the 2012 Newbery Medal for the year's best contribution to children's literature and the Scott O'Dell Award for Historical Fiction!
Melding the entirely true and the wildly fictional, Dead End in Norvelt is a novel about an incredible two months for a kid named Jack Gantos, whose plans for vacation excitement are shot down when he is "grounded for life" by his feuding parents, and whose nose spews bad blood at every little shock he gets. But plenty of excitement (and shocks) are coming Jack's way once his mom loans him out to help a fiesty old neighbor with a most unusual chore―typewriting obituaries filled with stories about the people who founded his utopian town. As one obituary leads to another, Jack is launced on a strange adventure involving molten wax, Eleanor Roosevelt, twisted promises, a homemade airplane, Girl Scout cookies, a man on a trike, a dancing plague, voices from the past, Hells Angels . . . and possibly murder. Endlessly surprising, this sly, sharp-edged narrative is the author at his very best, making readers laugh out loud at the most unexpected things in a dead-funny depiction of growing up in a slightly off-kilter place where the past is present, the present is confusing, and the future is completely up in the air.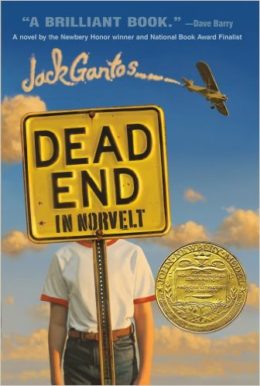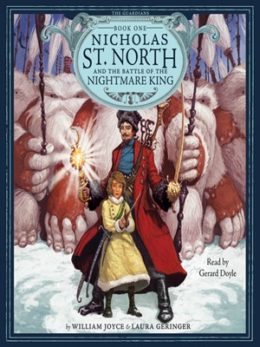 Nicholas St. North and the Battle of the Nightmare by William Joyce
Before SANTA was SANTA, he was North, Nicholas St. North—a daredevil swordsman whose prowess with double scimitars was legendary. Like any swashbuckling young warrior, North seeks treasure and adventure, leading him to the fiercely guarded village of Santoff Claussen, said to be home to the greatest treasure in all the East, and to an even greater wizard, Ombric Shalazar. But when North arrives, legends of riches have given way to terrors of epic proportions! North must decide whether to seek his fortune…or save the village.
When our rebellious hero gets sucked into the chaos (literally), the fight becomes very personal. The Nightmare King and his evil Fearlings are ruling the night, owning the shadows, and sending waves of fear through all of Santoff Clausen. For North, this is a battle worth fighting...and, he's not alone. There are five other Guardians out there. He only has to find them in time.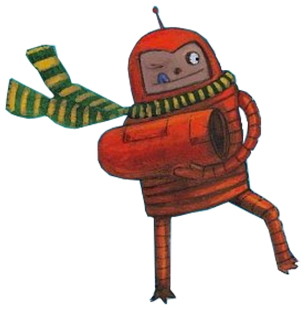 Can't Decide Which Books to Choose for Your Child?
Let our friendly staff hand-select books based on your child's age and preferences. Join our subscription service, and we'll send 2-3 books to your door once a month.