Your child is growing up so fast! Things aren't so literal anymore - it's fascinating that they start to develop a taste for story and can distinguish between fantasy and reality.
According to the National Academies of Sciences, Engineering, and Medicine children are already learning at birth, and they develop and learn at a rapid pace in their early years. Take advantage of that. Read a variety of books and reread their favorites, keep them engaged. Making reading a part of the daily routing is an important step in getting to a stage where books are a part of their overall interests. Again, all the studies and parenting experiences reflect that regular exposure to reading will not only build children's language as well as their interests, but will also become an amazing activity that will strengthen the bonds between parents and children.
Our subscription boxes for this age category include books and stories that have more layers - the titles introduce symbolism and metaphor
At the ages 5 to 6 children can be exposed to more sophisticated levels of storytelling. Some kids already recognize sight words, are learning to read, and are becoming growing readers. Picture books with a story that's a bit longer, early readers, short stories and simply good books are just perfect to keep 5 to 6 age year old children engaged. For young children at this age who are already reading independently books with minimal texts at a lower reading level that would help with guided reading are a perfect match. Those who are not yet reading are gradually developing phonemic awareness and might recognize words, helping them in that process, guiding them will help them grow into independents readers more smoothly.
Keeping up with daily reading of new books is an important step in raising a child who appreciates reading. Make sure to have as many books and reading materials around their room, create an HLE (home literacy environment) in the house. Keep engaging them and feeding their interests, no matter what they are into at this stage, be it fairy tales, picture books, early readers, as long as you see there is interest engaging them and feeding that internet will help them become independent readers.
Books that are part of a series provide one of the most popular interactive reading experiences available and are an amazing tool in any parent's toolbox. These types of books allow children to see an entire narrative story and make connections between characters that are introduced in each book. This makes the story more interesting and valuable to them as they recognize how different books can be connected through story line and repeating characters, etc. Another interesting tool is the reading log which helps to keep children engaged and develop ownership of reading.
According to the "Child Development and Early Learning: A Foundation for Professional Knowledge and Competencies" study children become "readers" long before they begin to read. Story time at this age is so much more fun for both parent and child. Continuous reading at this age helps with the build up of the overall vocabulary foundation and development and helps in discovering new concepts. There are a lot of amazing titles that are perfect for this age. From all favorite classics of Maurice Sendak, Dr Seuss, to Mo Willems, Drew Daywalt, etc. Below is a sample list of titles that we have shipped in our subscription boxes for kids age 5 to 6. These are books that would make your daily story time a fun and educational activity.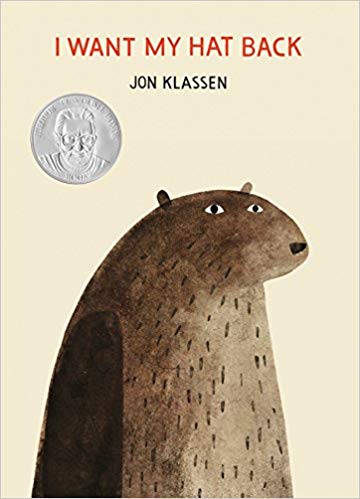 I Want My Hat Back by Jon Klassen
A New York Times Best Illustrated Children's Book of 2011! A picture-book delight by a rising talent tells a cumulative tale with a mischievous twist.
The bear's hat is gone, and he wants it back. Patiently and politely, he asks the animals he comes across, one by one, whether they have seen it. Each animal says no, some more elaborately than others. But just as the bear begins to despond, a deer comes by and asks a simple question that sparks the bear's memory and renews his search with a vengeance. Told completely in dialogue, this delicious take on the classic repetitive tale plays out in sly illustrations laced with visual humor— and winks at the reader with a wry irreverence that will have kids of all ages thrilled to be in on the joke.
Reviews
A marvelous book in the true dictionary sense of "marvel": it is a wonderful and astonishing thing, the kind of book that makes child laugh and adult chuckle, and both smile in appreciation. A charmingly wicked little book.
—The New York Times
Deliberately understated, with delectable results… Skillful characterizations; though they're simply drawn and have little to say, each animal emerges fully realized.
—Publishers Weekly (starred review)
Read aloud, this story will offer many sublime insights into how young readers comprehend an illustrated text that leaves out vital information, and will leave young sleuths reeling with theories about what just happened.
—School Library Journal
Once Upon a Saturday by Leslie Lammle
It's Saturday at last—no school, no homework, no lessons.
The day belongs to June. She can search for wild animals, learn how to fly, or maybe even discover long-lost treasure. But before she is free to enjoy her day, June must face one big problem: her list of chores! Luckily, the only thing bigger than June's list of chores is her imagination, and she finds that with a little ingenuity even humdrum activities like eating her breakfast, sweeping the leaves, and cleaning her room can become an adventure.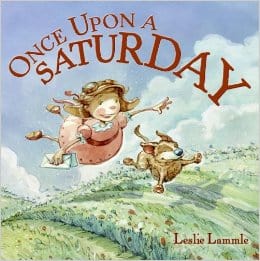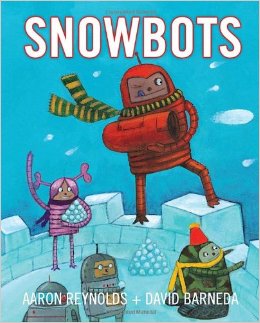 Snowbots by Aaron Reynolds and David Barneda
How do the robot children of Clackentown spend snow days? They have supersonic snowball fights, make robot angels with wing nuts moving up and down, take hot oil baths to thaw out the joints, and receive eskimo kisses on metal noses at bedtime.
Author Aaron Reynolds and illustrator David Barneda team up to tell a hilarious story about two favorite subjects—robots and snow days!
It's a Book by Lane Smith
A wry exchange between an IT-savvy donkey, a book-loving ape and a mouse forms this playful and light-hearted look at the role of books in our digital age. With a subversive and signature Lane Smith twist, this satisfying and perfectly executed picture book has something to say to children and adults alike about the importance and joy of reading.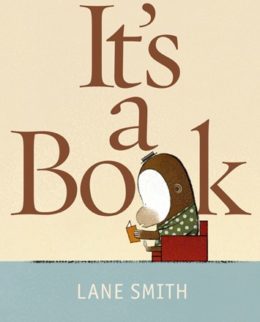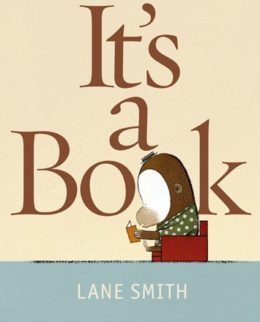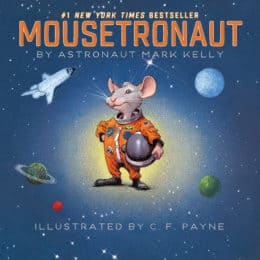 Mousetranaut by Mark Kelly and C. F. Payne

A heartwarming picture book tale of the power of the small, from bestselling author and retired NASA astronaut Commander Mark Kelly.
Astronaut Mark Kelly flew with "mice-tronauts" on his first spaceflight aboard space shuttle Endeavour in 2001. Mousetronaut tells the story of a small mouse that wants nothing more than to travel to outer space. The little mouse works as hard as the bigger mice to show readiness for the mission . . . and is chosen for the flight! While in space, the astronauts are busy with their mission when disaster strikes—and only the smallest member of the crew can save the day. With lively illustrations by award-winning artist C. F. Payne, Mousetronaut is a charming tale of perseverance, courage, and the importance of the small!
Kid Sheriff and the Terrible Toads by Bob Shea and Lane Smith
Drywater Gulch has a toad problem. Not the hop-down-your-britches, croaking-all-night toad kind of problem. The thievin', hootin' and hollerin', steal-your-gold never-say-thank-you outlaw toad kind of problem.
Then hope rides into town. Sheriff Ryan might only be seven years old, and he might not know much about shooting and roping. But he knows a lot about dinosaurs. Yes, dinosaurs. And it turns out that knowing a thing or two about paleontology can come in handy when it comes to hoodwinking and rounding up a few no-good bandits. From Bob Shea and Lane Smith comes this hilarious picture book, Kid Sheriff and the Terrible Toads.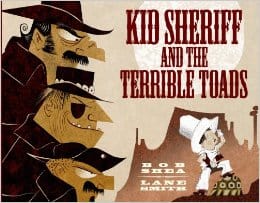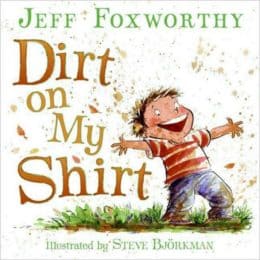 Dirt on My Shirt by Jeff Foxworthy
From bestselling author and comedian Jeff Foxworthy comes a hilarious collection of poems about a neighborhood filled with fun, family, friends, and more. Here you'll meet Cousin Lizzy, Uncle Ed and Aunt Foo Foo, cows with horns that don't go beep, dads in sweaters, also sheep. From the thrill of flying to the imaginary planet Woosocket to bonding with a friend over a shared hatred of spinach, these poems capture the very essence of being a kid. With vibrant and comic illustrations by bestselling author and artist Steve Bjorkman, Dirt on My Shirt is sure to delight kids, big and little, everywhere.
Nuts by Paula Gerritsen
Autumn is in the air when Mouse sets out to gather nuts from the distant nut tree she has spotted from her hilltop home.  The tree is far, far away--across the fields, meadows, and farms.  Heedless of her friends' warnings about the dangers in her path, she makes her way to the tree.  After a long blustery journey, Mouse is disappointed with what she finds.  She makes her way home sadly, but when she gets there Gull is waiting for her with a pleasant surprise.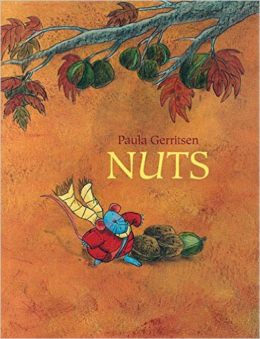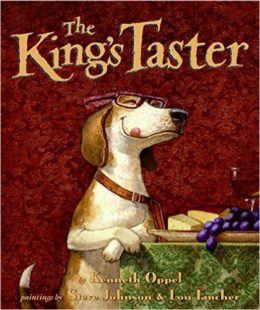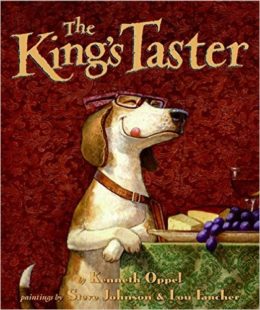 The King's Taster by Kenneth Oppel and Lou Fancher
Max is the cook's dog. And because he is also the king's taster, Max gets to feast on
French Fries!
Rose Pudding!
Cheese Pie!
Pizza!
No wonder Max loves his job. Who wouldn't want to dine on these delicious dishes?
The new king, that's who.
And if the new king has his way, it won't just be their job that the cook and Max lose!
The Adventures of Beekle: The Unimaginary Friend by Dan Santat
Winner of the 2015 Caldecott Medal

This magical story begins on an island far away where an imaginary friend is born. He patiently waits his turn to be chosen by a real child, but when he is overlooked time and again, he sets off on an incredible journey to the bustling city, where he finally meets his perfect match and-at long last-is given his special name: Beekle.
New York Times bestselling and award-winning author and illustrator Dan Santat combines classic storytelling with breathtaking art, creating an unforgettable tale about friendship, imagination, and the courage to find one's place in the world.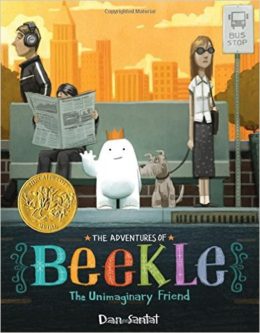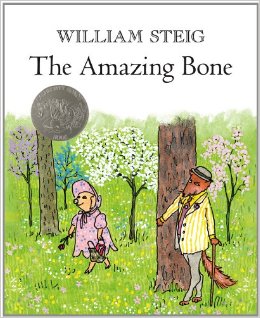 The Amazing Bone by William Steig
1976 New York Times Book Review Notable Children's Book of the Year
1977 Caldecott Honor Book
1977 Boston Globe - Horn Book Awards Honor Book for Picture Books

It's a bright and beautiful spring day, and Pearl, a pig, is dawdling on her way home from school. Most unexpectedly, she strikes up an acquaintance with a small bone. "You talk?" says Pearl. "In any language," says the bone. "And I can imitate any sound there is." (Its former owner was a witch.) Pearl and the bone immediately take a liking to each other, and before you know it she is on

her way home with the bone in her purse, left open so they can continue their conversation. Won't her parents be surprised when she introduces her talking bone!
But before that happy moment comes, the resourceful bone must deal with a band of highway robbers in Halloween masks and, worse, a fox who decides that Pearl will be his main course at dinner that night. And deal it does, with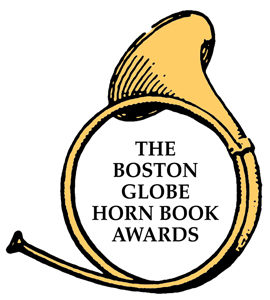 gambits droll and thrilling.
William Steig, incomparable master of the contemporary picture book, has never been better than in The Amazing Bone.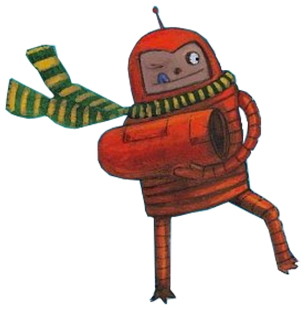 Can't Decide Which Books to Choose for Your Child?
Let our friendly staff hand-select books based on your child's age and preferences. Join our subscription service, and we'll send 2-3 books to your door once a month.