Indestructible Books for Babies: Ages 0 to 1
Congratulations on knowing a BRAND SPANKING NEW HUMAN! If you are here because you are a sleep-deprived caregiver looking to put baby to sleep - WELCOME! If you are here because you are looking for shower gifts - WELCOME! If you are a father looking for daddy books for babies - WELCOME! If you want to add to your collection of Dr. Seuss or Goodnight Moon - WELCOME!
As you might already know (or not!), at this stage, babies are just learning to explore the world around them - they pay attention to words spoken out loud, they are interested in touching, gripping, and dragging across the floor, and as well as imitating common behaviors. In a blink of an eye you will be bombarded with questions, so for now enjoy this magical time. 🙂
And to slow down, get some bonding time, we have a full library of board books that have a lot of colors, simple concepts, and a story to help with sleep training and night waking. These are baby books for girls, baby books for boys, as well as a sleeping books for babies from 0 months up to 1 year of age.
We pack 2-3 titles in each box. We can write a message for baby's books if you wish (we will hand-write the note for you). If you want book inscriptions for baby showers, or need quotes for baby's books, let us know and we would be glad to help you out! As far as the books being indestructible - although, boardbooks are made of a thicker paperlike material that holds up to anything, babies can throw and they teethe! The books are only chew proof, rip proof and drool proof if your baby doesn't consistently do those things to them!
Whether your baby reads, falls asleep, is gumming, spilling, or dragging, integrating books into their routine has infinite benefits! Take a look at out Reading to Infants post to learn more about how to take the highest advantage of this imperative time in your little one's life (psst...we recommend interactive reading!). A reading routine makes for enjoyable baby memories - books for boys, girls, and even one's that will become your own favorites! Below is a sample list of titles we love and ship to our subscribers for this age.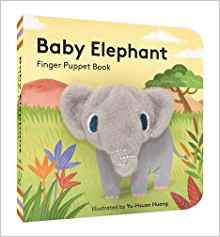 Baby Elephant: Finger Puppet Book by Chronicle Books
Follow along the rhythms of a baby elephant's day from playtime to bedtime! Warm illustrations and comforting story makes sure this series of books are built perfectly for the very youngest readers. Plus, the elephant is a finger puppet, which makes this one of our favorite elephant books for babies!
Two Bad Mice by Beatrix Potter and Charles Santore
NEW YORK TIMES BESTSELLING ILLUSTRATOR

Beatrix Potter's Classic Tale of Two Bad Mice is now available in a board book format. Join Tom Thumb and Hunca Munca as these mischievous mice explore a beautiful dollhouse—only to discover that nothing is what it seems! Lavish illustrations with the finest details from New York Times bestselling artist Charles Santore capture the spirit of this classic tale, printed on sturdy board stock that will withstand years and generations of repeated reading and handling. This edition is a must-have for every child's library.
Illustrator: Charles Santore
Reviews: goodreads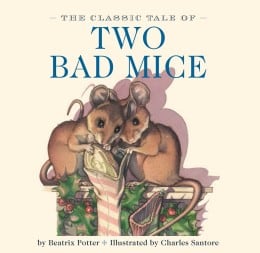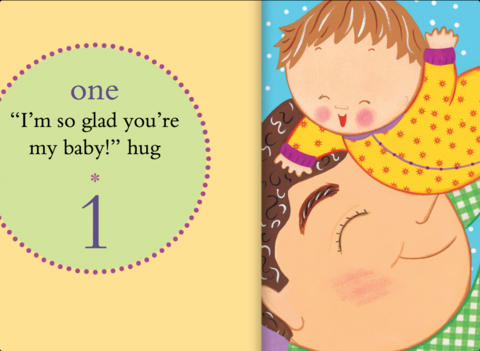 Daddy Hugs by Karen Katz
Babies love getting hugs, especially from their daddy! Snuggle up with your little ones and count all the hugs baby gets in a day. We love thinking of the bonding experience this book can create which makes it one of our favorite dad books for babies!
Baby Peekaboo! by DK Publishing
Babies will find a cuddly teddy, a big-eyed frog, a fluffy rabbit, a shaggy dog, a smiling dolly, and other fun toys hiding behind the flaps in this book. Perfect for reading aloud and encouraging early word recognition, these chunky board books are just right for exploring shape and texture.
Reviews: goodreads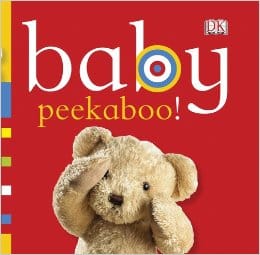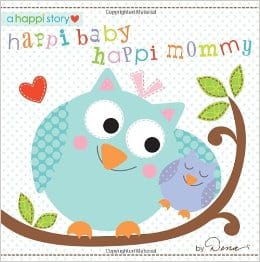 Happi Baby, Happi Mommy by Dena
Baby and mommy cook, nap, rub noses, and make joyful noise in this cute and cuddly happi board book, that babies, toddlers, and their grown-ups are sure to adore! The rhyming text is predictably structured to engage the interest of the youngest readers, yet packed full of fun surprises! Who doesn't love mommy/baby time?
Creator: Dena
Reviews: goodreads
Nursery Rhymes Collection by Kate Toms
Kate Toms Nursery Rhymes is a wonderful new collection of favorite nursery rhymes printed with a unique hand-stitched illustration-style. This combination provides a lively and fresh interpretation of well-known nursery rhymes with whimsy and humor. This is the perfect collection for parents and children to share and enjoy together.
Reviews: goodreads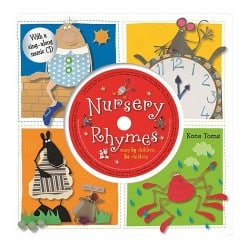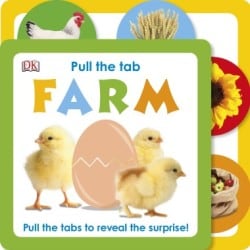 Pull the Tab: Farm by DK
In Pull the Tab: Farm yellow chicks, a black and white cow, a brown calf, a blue tractor, a red barn and more colorful surprises are waiting to be discovered as toddlers learn about life on the farm. Babies will love the guessing games from the pull-the-tab activities, while the lively, rhyming text is perfect for a grown-up to read aloud. Repeated phrases allows baby to join in and make reading fun!
Good Night, Gorilla by Peggy Rathmann
ALA Notable Children's Book for 1994
Bulletin Blue Ribbon 1994
Horn Book Fanfare 1995 selection
Parenting Magazine "Best Children's Books of 1994"
New York Public Library 1995 "Children's Books 100 Titles for Reading and Sharing"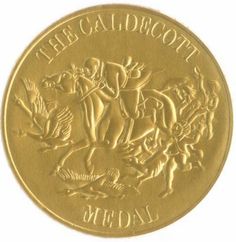 "Good night, Gorilla," says the zookeeper. But mischievous Gorilla isn't quite ready to go to sleep. He'd rather follow the zookeeper on his rounds and let all of the other animals out of their cages. Little night owls can sneak along with Gorilla and see who gets the last laugh in this riotous goodnight romp. This book from Caldecott Medal winning author Peggy Rathmann is sure to become a beloved part of children's bedtime rituals.

Author: Peggy Rathmann
Reviews: goodreads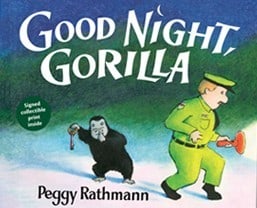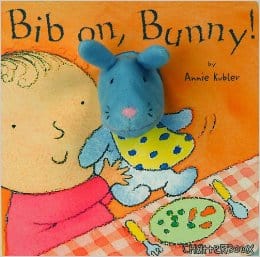 Bib on, Bunny! By Annie Kubler
It's Bunny's meal time, and he's ready for a chat! There's a ready-made rhyming conversation in the book, and you can make up your own as well! Talking with your baby fosters the early development of basic language and communication skills, and promotes emotional closeness and wellbeing.
Reviews: goodreads
Hug Time by Patrick McDonnell
There was once a kitten so filled with love he wanted to give the whole world a hug! Jules the kitten knows that hugs can make the world a better place. So he makes a "Hug To-Do List"--with the endangered species of the world at the top--and travels the globe to show all of the animals that someone cares. From Africa to the North Pole to his own backyard, Jules proves a hug is the simplest--but kindest--gift we can give!
Author: Patrick McDonnell
Reviews: goodreads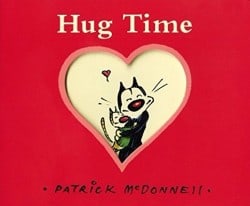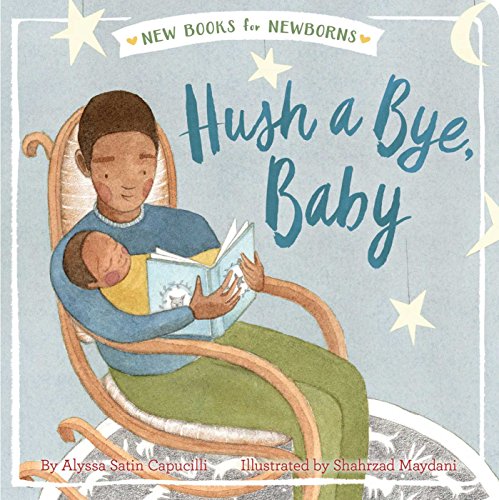 Hush and Bye, Baby by Alyssa Satin Capucilli and Shahrzad Maydani
With lilting lullaby text and lovely illustrations, the New Books for Newborns stories are the perfect first books for new parents to share with their little ones right from the start! In this sweet board book, a parent gently reassures a baby that they will be watching over them as they close their eyes for sleep.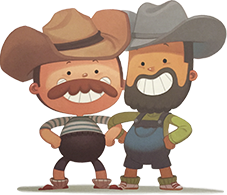 Can't Decide Which Books to Choose for Your Child?
Let our friendly staff hand-select books based on your child's age and preferences. Join our subscription service, and we'll send 2-3 books to your door once a month.