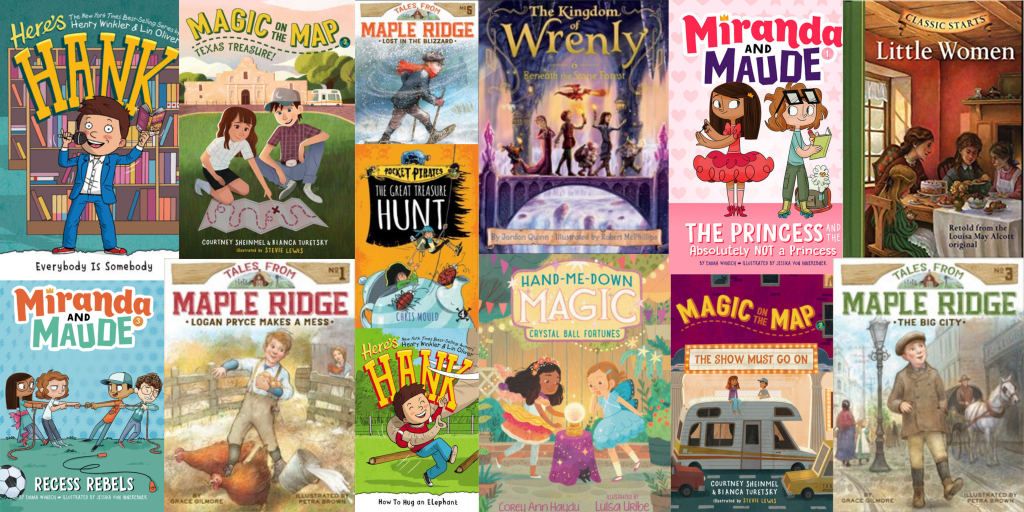 There are a lot of kids books that are deemed "easy readers." However, not all easy readers are the same. Generally, these books are designed to keep the reader engaged, whether it's the fonts that are easy to read or illustrations on every page to keep the reader engaged or the story line that keeps the reader  interested in what is happening in the story.
We're Easy Reader Fans here! When your child is ready for more text but not yet ready to jump into chapter books, Easy Readers are your best bet! These books are formatted to start to look like chapter books without the lengthy amount of text that chapter books have. In terms of age appropriateness these can be books for ages 6 to 7 or books for ages 7 to 8, it all depends on the overall reading level and capacity of your child. It is important this transition to be a natural process.
Here are some of the features of Easy Readers that make them a perfect choice for the transition between picture books and chapter books:
Easy Readers are generally targeted for 6 to 8 year olds.

They have a combination of illustration and simplified text.

The fonts tend to be larger than longer chapter books for kids.

The length of the books are generally under 200 pages.

The text that is divided into chapters. A built-in pause break!

They introduce the idea of series and recurring characters.

These books are a great way to introduce classics to kids. Abridged versions of classics can be formatted like Easy Readers.
Here are some of the Easy Reader series we've featured in our boxes:
Magic on the Map Series by Courtney Sheinmel, Bianca Turetsky, & Stevie Lewis
Travel around the United States of America with twins Finn and Molly in this new chapter book series that highlights a different state in each book!
Magic on the Map #1: Let's Mooove!
We must be dreaming! That's what twins Finn and Molly Parker think when they discover a camper in their driveway--and it talks! When the RV transports them to a cattle ranch in Colorado, the twins know something magical has happened. Then the camper disappears, leaving Finn and Molly to wonder . . . how are we going to get home?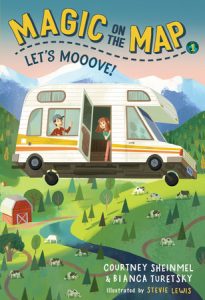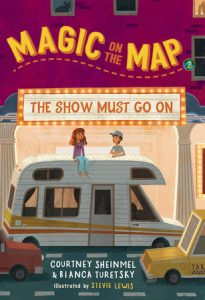 Magic on the Map #2: The Show Must Go On
Say hello to the Big Apple! PET, the magical camper, has surprised Finn and Molly Parker with another mysterious trip--this time to New York City, where they meet kid star Hallie Hampton. Hallie needs the twins' help to win a scavenger hunt before the curtain rises on her opening night. It's loads of fun ... except that Finn and Molly are doing all the work!
Magic on the Map #3: Texas Treasure
Welcome to the Alamo! PET, the magical camper, flies Finn and Molly Parker to San Antonio, Texas. The twins know they're more than just tourists--they have work to do! Their mission? Help their new friend, Carlos, find buried treasure. But something's funny about Carlos's map, and Finn and Molly begin to think maybe they're looking for treasure that's not just silver and gold . . .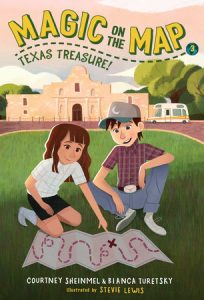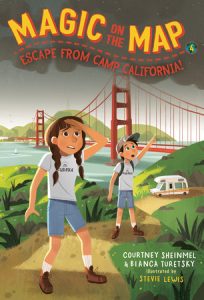 Magic on the Map #4: Escape From Camp California
Finn and Molly are magically transported to San Francisco, California, where they must help wildfire refugees before returning home to Ohio.
Miranda and Maude Series by Emma Wunsch & Jessika von Innerebner
This hilarious, heartfelt series teaches empathy, and reminds us that your very best friend could be one desk away.
Miranda and Maude #1: The Princess and the Absolutely Not a Princess
Princess Miranda does not want to go to school. She wants to shoe shop, plan parties, and decorate the castle. Maude cannot wait for school. She loves rules and social justice and getting good grades. She also loves hard-boiled eggs, much to Miranda's dismay. When a tense first week of school results in Maude getting excluded from the Royal Birthday Party, Maude decides she's found her first fight for social justice: a birthday boycott.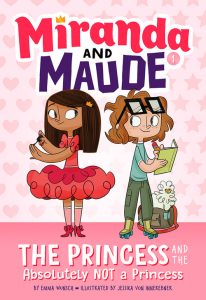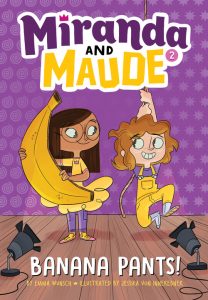 Miranda and Maude #2: Banana Pants
Fed up with nonstop testing, Miranda and Maude's teacher makes a surprise announcement: They are going to put on a school play! And, the class decides, it will be called Banana Pants! School is finally a joy, and the project inspires the girls to fight for more positive change. Maude decides to wage a campaign against Styrofoam lunch trays, and she thinks she has the perfect powerful ally in Miranda.
Miranda and Maude #3: Recess Rebels
The girls and boys of 3B aren't getting along. It starts with a game of tag and ends with a tug of war. In between, there are sneak attacks, a girls-only newspaper, a doughnut filled with cheese, and one stolen Frizzle chicken. Maude gets lots of opportunities to protest, but in the end, it's Miranda who learns to stand up for what she believes in.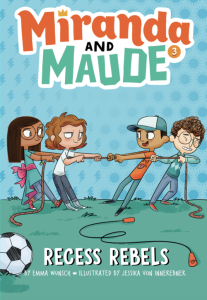 Here's Hank Series by Henry Winkler & Lin Oliver
Hank Zipzer is back with more fun, laughs, and mishaps! This set of books lets young readers experience the humor of Hank once again.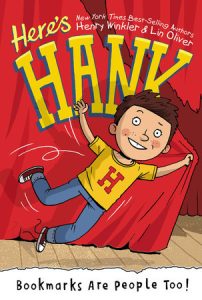 Here's Hank #1: Bookmarks and People Too!
Hank's class is putting on a play, and Hank wants the lead part: Aqua Fly. But he freezes in his audition and can only buzz like a fly. His teacher creates a special part for Hank, a silent bookmark. This may seem like an insignificant role, but when his enemy, Nick McKelty, freezes during the performance, it's up to Hank to save the play!
Here's Hank #4: Fake Snakes and Weird Wizards
Hank's sister Emily wants Ralph's Reptile Show to perform at her birthday party more than anything, but Ralph is booked solid. So Hank comes up with a plan: he'll disguise himself as a magician called The Westside Wizard and pull a snake from thin air! But when Hank's true identity is revealed during his performance, his good deed might just turn into a huge disaster.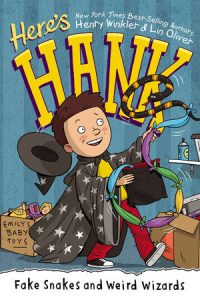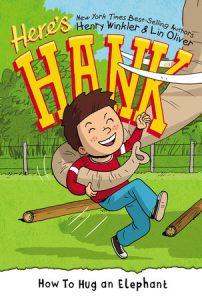 Here's Hank #6: How to Hug an Elephant
When Hank's class takes a field trip to the zoo, he quickly gets lost after his partner (and nemesis) ditches him. Unable to read the map, Hank wanders and finds himself locked in a habitat with Elsie, an elephant recently rescued and kept isolated. He begins a game of soccer with her, and they become fast friends. But when Hank notices how lonely Elsie is, he's determined to help her find her own animal friends.
Here's Hank #12: Everybody is Somebody
When a well-known author of a beloved book series visits Hank's school, he and his two best friends get the chance to be her guide for the day and introduce her at an assembly. But Hank, embarrassed by his struggles with reading, tries to hide the fact that he's never actually finished reading the author's books--or any book, for that matter! So Hank gets creative and makes up his own version of the story. But will everyone be able to tell fact from fiction?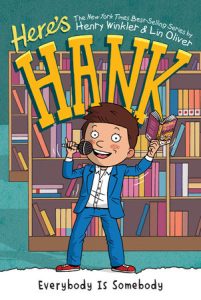 Hand-Me-Down Magic Series by Corey Ann Haydu & Luisa Uribe
This series' writing is filled with tender moments, wholesome humor, and magical detail.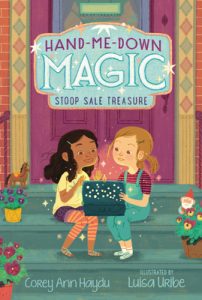 Hand-Me-Down Magic #1: Stoop Sale Treasure
DEL loves LOTS of things! The Curious Cousins Secondhand Shoppe. Ginormous family dinners. And of course, her best-friend-cousin, Alma.
ALMA loves her abuelita's tasty empanadas. Her old home by the lake. And soon, she'll love living in the same place as her best-friend-cousin, Del.  
Yet despite having Del by her side, Alma isn't quite sure she fits in with their family at 86 ½ Twenty-Third Avenue. It's a new life and it's all so different. When Del finds a special item at a neighbor's stoop sale, she gets so excited by the magic luck it brings—but doesn't see that it's driving the two best friends apart. Will family, friendship, and maybe a little everyday magic be enough to make things right again?
Hand-Me-Down Magic #2: Crystal Ball Fortunes
Alma's birthday gift for Del was supposed to be delightful and daring—just like Del. Her present was a magical crystal ball, and it worked, too! All of Del's predictions for her party guests were coming true. But when Alma looks into the ball to read Del's future, she sees something frightening.
Del is certain Alma has given her a bad luck fortune and that it will spell DISASTER for her. Suddenly, Del doesn't feel like the brave cousin anymore. Which means it's up to Alma to help Del face her fear—and her crystal ball fortune—with her best-friend-cousin right by her side.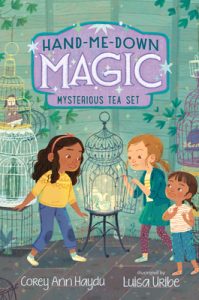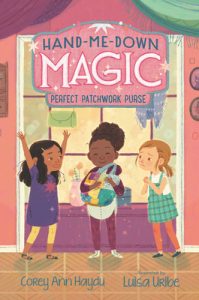 Hand-Me-Down Magic #3: Perfect Patchwork Purse
Alma knew it the first time she saw it: The patchwork purse in the window of the Curious Cousins Secondhand Shoppe was magical. Special. Perfect. But when her friend Cassie spots the purse and buys it, what could Alma do but agree that the purse really did look just right on Cassie?
Del decides it's up to her to bring some homespun magic back into Alma's life, and she's got just the plan to do it. After all, she is the EXPERT on magic!
All she needs is some glitter and lots and lots of glue . . . because she knows magic can always come from the most unexpected places, but most importantly, that best-friend-cousins never let each other down.
Hand-Me-Down Magic #4: Mysterious Tea Set
Del finds a very beautiful tea set hidden deep in the Curious Cousins Secondhand Shoppe—but something about it doesn't add up. It's missing some teacups, and the hand-painted design on it looks very familiar. The tea set must be connected to their family.
Alma and Del are excited to solve the case of the mysterious tea set, but their questions ("Who painted it?" "Is it magical?") only to get an Abuelita shrug and a confusing answer.
Still, with determination, neighborhood magic, and a little help from Evie, the best-friend-cousins will learn the story behind the tea set as they work to make it whole once more.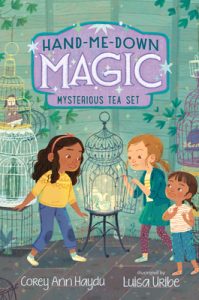 Tales from Maple Ridge Series by Grace Gilmore
Meet Logan Pryce, an eight-year-old boy whose family hardships are made better by his small-town community in this wholesome series that's like Little House on the Prairie for younger readers.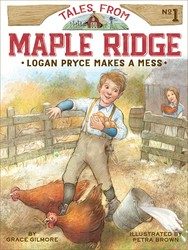 Tales from Maple Ridge #1: Logan Pryce Makes a Mess
Meet Logan Pryce, an eight-year-old boy whose family hardships are made better by his small-town community in this start to a wholesome series that's like Little House on the Prairie for younger readers.
It's 1892 in Maple Ridge, Illinois, and Logan Pryce is worried about his family. His dad, Dale, needs to find a new job because their farm is failing. He may even need to look for work in another city. Logan offers to earn some money by selling his latest invention, but his parents tell him not to worry and that everything will be fine. Then Dale is hired for a temporary job at the general store, and Logan can't wait to lend a hand! But his eagerness may cause his dad to lose the job he so badly needs. Can Logan's mistake be fixed in time?
Tales from Maple Ridge #2: The Lucky Wheel
The residents of Maple Ridge are trying to raise money to fix their schoolhouse. Repairs just can't be put off any longer! Everyone has decided to pitch in and sell their old or unwanted items at a market held outside the nearby city. Logan wants to contribute by fixing and selling a wagon wheel that he found on the side of the road, even though nobody believes he can handle the task. Logan works very hard on the repairs…but will his effort pay off?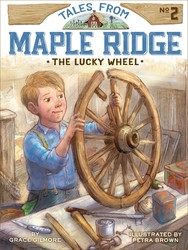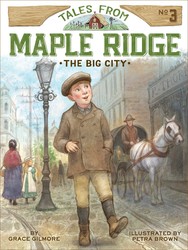 Tales from Maple Ridge #3: The Big City
Welcome to Sherman! Logan can't wait to leave "boring" Maple Ridge and enter the exciting city. While Pa is at his job interview, Logan explores Sherman with his cousin Freddy. But after spending a day among the hustle and bustle of urban life, Logan realizes that the quiet, familiar surroundings of his hometown are not so bad after all.
Tales from Maple Ridge #4: The Ghost of Juniper Creek
Something is rustling in the bushes and making weird sounds down by the water. According to Logan's older brother, Drew, it's the Ghost of Juniper Creek. But Logan is determined to show no fear...at least not in front of his friends and family. So when Drew dares Logan and his friend Anthony to confront the spirit, the two boys bravely head to the creek where the ghost awaits…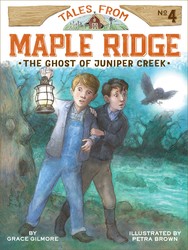 The Kingdom of Wrenly Series by Jordan Quinn
Journey to the magical Kingdom of Wrenly and join Prince Lucas and his best friend Clara on plenty of adventures with this fantastical illustrated chapter book series!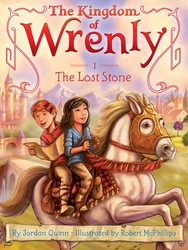 The Kingdom of Wrenly #1: The Lost Stone
Meet Lucas, the eight year-old prince, and Clara, the daughter of the queen's seamstress. Lucas is an only child who longs to make friends and go on adventures. Clara knows the kingdom well, so she and Lucas team up and explore the lands of Wrenly!
In The Lost Stone, Lucas and Clara search for Queen Tasha's missing emerald. On their exciting adventure, they travel to all the main attractions of Wrenly: Primlox (the island of fairies), Burth (the island of trolls), Crestwood (the island of dragons), Hobsgrove (the island of wizards), and the beautiful Mermaid's Cove. King Caleb has promised to reward the person who finds the precious stone, and Lucas and Clara are determined to search the entire kingdom until they find it!
The Kingdom of Wrenly #2: The Scarlet Dragon
An unusual egg has been found on Crestwood, the land of dragons. When the egg starts to hatch, the king, queen, and Prince Lucas are there to see what emerges. It's…a scarlet dragon! Everyone is amazed to see the creature, which they have only heard about in tall tales.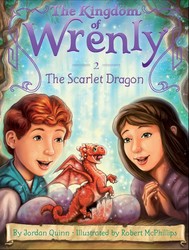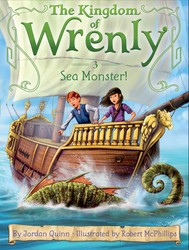 The Kingdom of Wrenly #3: Sea Monster!
Something has been making waves around Wrenly, and it's not the tides. Prince Lucas is sure that it's the mysterious sea monster that has only been heard of in tall tales. Now the legendary monster is frightening everyone—from fishermen, to the king's men, to even the hardiest of sea captains. With the aid of his best friend, Clara, and a cast of unlikely helpers, it's up to Prince Lucas to discover what is bothering the beast—and make the trouble stop!
The Kingdom of Wrenly #4: Beneath the Stone Forest
Clara invites Prince Lucas on her journey to map out the Stone Forest and visit the gnomes who live there. Unfortunately, Lucas has a visiting cousin who's a royal pain and doesn't want to get her hands dirty. But when Princess Bella's puppy gets lost in the tunnels beneath the Stone Forest, she realizes that the subjects who make up a kingdom are just as important as their rulers.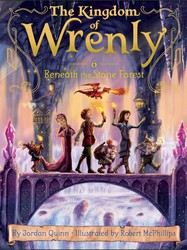 Classic Starts by Sterling Publishing Company
Each all-time favorite novel is expertly abridged for easy reading and filled with all the enchantment that made the original story so beloved.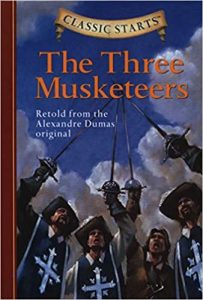 Classic Starts: The Three Musketeers
All for one and one for all! That's the rallying cry of the Musketeers—guards of the French King—and the call to adventure for young readers enjoying their first taste of Dumas' classic swashbuckler. Aramis, Athos, Porthos, and the not-quite-yet Musketeer D'Artagnan use their wits and their swords to battle an evil Cardinal, the traitorous Milady, and other enemies of the French court.
Classic Starts: The Secret Garden
The discovery of a neglected garden transforms the life of a sullen and unloved little girl-and everyone around her, too. When the newly orphaned Mary Lennox leaves her native India and arrives at her uncle's mansion in Yorkshire, everything seems strange to her. Then Mary hears of a mysterious garden where no one has set foot in 10 years. With the help of some new friends, she plans to uncover its secrets...and make it blossom once again.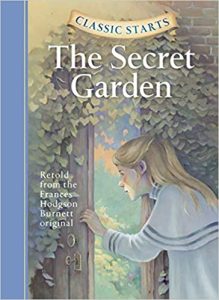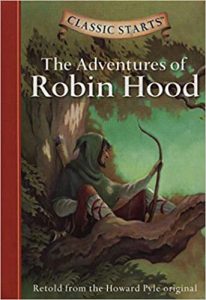 Classic Starts: The Adventures of Robin Hood
He robbed from the rich and gave to the poor, and had escapades enough to please any adventure-loving child. Now even the youngest readers can have the chance to enter Sherwood Forest with Robin's band of merry men, and meet such unforgettable characters as Friar Tuck, Little John, Allan-a-Dale, the nasty Sheriff of Nottingham, and wicked King John. Every moment of the story is filled with action and excitement.
Pocket Pirates Series by Chris Mould
A band of tiny squash-bucklers go on adventures of epic proportions in this start to a brand-new series about pocket-sized pirates!
Pocket Pirates #1: The Great Cheese Robbery
When a band of mice kidnaps Jones, the ship's cat, and ransoms him for cheese, the Pocket Pirates spring into action. But to get the cheese, they must venture to the freezing cold place where it's always winter…the place called Fridge. Can the Pocket Pirates survive their perilous journey and get their ship's cat back?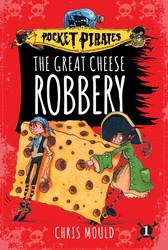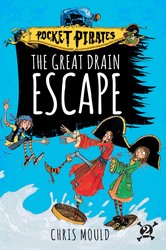 Pocket Pirates #2: The Great Drain Escape
When the junk-shop dog moves in underneath the Pocket Pirates' shelf, their route to the kitchen is blocked! The noise of rumbling stomachs is keeping everyone awake, and their last few stale breadcrumbs won't keep them going long.
The Pocket Pirates #3: The Great Flytrap Disaster
Up on the Pocket Pirates' shelf, the summer heat is rising. Flies are swarming around Button's pirate ship. And Mr Dregby, the house spider, has got his six hungry eyes peeled and his eight hairy legs ready for action ...
BUT BUTTON IS READY FOR DANGER!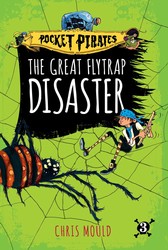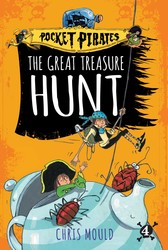 The Pocket Pirates #4: The Great Treasure Hunt
Our Pirates have left the safety of their shelf to search for gold…but dangers await them. The skirting-board mice are on the prowl, and the shopkeeper has an unwelcome surprise in store! Will they find the treasure they seek…or return to their ship-in-a-bottle empty-handed?