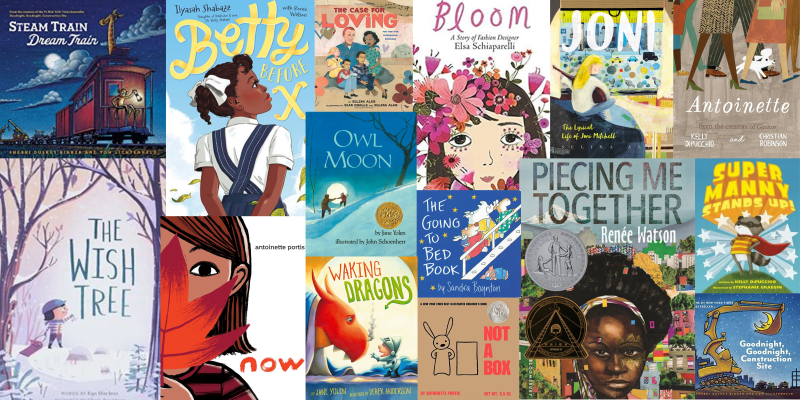 We are celebrating some of our favorite authors for Women's History Month! It's incredibly important for our children to see their potential from the earliest stages possible. Making sure to consistently expose them to complex female characters addresses the gender disparity that is still existent in this genre. Perhaps even more important, is to make sure that they see works by female authors as well - you may have a future author, writer, speaker on your hands who will need to see women who have paved the way! We hope we continue to see innovative and inspirational storytellers like them!
Sherri Duskey Rinker
"Thanks to my grandmother and Virginia Lee Burton, I had an early passion for picture books. My grandmother read to me. Virginia Lee Burton inspired me through the whimsical, beautiful pages of The Little House and Mike Mulligan."
Sherri Duskey Rinker is the author of six New York Times bestselling picture books in the Goodnight, Goodnight, Construction Site series, illustrated by Tom Lichtenheld and AG Ford (Chronicle Books). She is also the author of #1 NYT bestselling picture book Steam Train, Dream Train illustrated by Tom Lichtenheld (Chronicle Books).
From sherririnker.com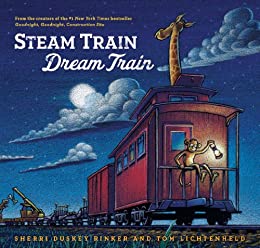 Steam Train Dream Train by Sherri Duskey Rinker and Tom Lichtenheld
The dream train pulls into the station, and one by one the train cars are loaded: polar bears pack the reefer car with ice cream, elephants fill the tanker cars with paints, tortoises stock the auto rack with race cars, bouncy kangaroos stuff the hopper car with balls. Sweet and silly dreams are guaranteed for any budding train enthusiasts!
Goodnight, Goodnight, Construction Site by Sherri Duskey Rinker and Tom Lichtenheld
As the sun sets behind the big construction site, all the hard working trucks get ready to say goodnight. One by one, Crane Truck, Cement Mixer, Dump Truck, Bulldozer, and Excavator finish their work and lie down to rest--so they'll be ready for another day of rough and tough construction play!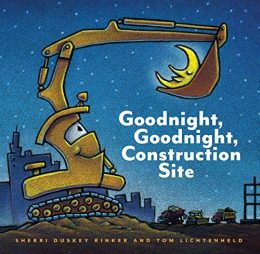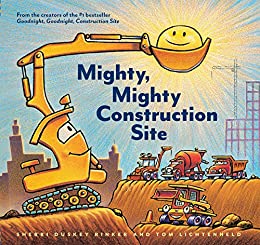 Mighty, Mighty Construction Site by Sherri Duskey Rinker and Tom Lichtenheld
A focus on team-building, friendship, and working together: At last--here from the team behind the beloved international bestseller comes a companion to Goodnight, Goodnight, Construction Site. Down in the big construction site, all of the favorite trucks are back facing their biggest job yet and will need the help of new construction friends to get it done. Mighty, Mighty Construction Site teaches kids that when working as a team, even a big job seems small! They find out that with teamwork, nothing is impossible!
Kyo Maclear
Kyo Maclear's children's books have been published in over twenty countries and nominated for numerous awards, including the Governor General's Literary Award, the TD Canadian Children's Literature Award, and the Boston Globe-Horn Book Award. In addition to writing for children, Kyo is also a novelist and widely published essayist. She is on faculty with The Humber School for Writers and the University of Guelph Creative Writing MFA.
From kyomaclearkids.com
Bloom: A Story of Fashion Designer Elsa Schiaparelli by Kyo Maclear and Julie Morstad
A dazzling picture book biography of one of the world's most influential designers, Elsa Schiaparelli, by the team who created Julia, Child. Elsa dared to be different, and her story will not only dazzle, it will inspire the artist and fashionista in everyone who reads it.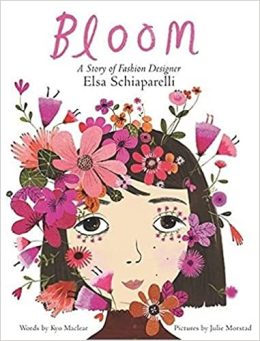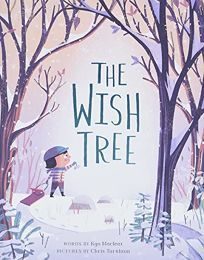 The Wish Tree by Kyo Maclear and Chris Turnham
A tribute to friendship and kindness and a celebration of what matters in life, The Wish Tree encompasses the best things about the holiday season—without being tied to any particular tradition.
Kelly DiPucchio
Kelly is the award-winning author of several children's books, thousands of To-Do lists, and a few recipe cards. Two of her books, Grace For President and The Sandwich Swap, were New York Times bestsellers.
Like most kids who grew up in the 1970's, Kelly had a pet goat and bought all her clothes from the Sears catalog. Like most teenagers who grew up in the 1980's, Kelly had really big glasses and feathered hair.
From kellydipucchio.com
Antoinette by Kelly DiPucchio and Christian Robinson
Antoinette's three burly brothers each have a special talent. Rocky is clever. Ricky is fast! And Bruno is STRONG. Mrs. Bulldog reassures Antoinette that there is something extra special about her—but Antoinette is not so sure.
Then one day, while Antoinette plays in the park with her friend Gaston, Gaston's sister Ooh-La-La goes missing. Antoinette feels a tug in her heart and a twitch in her nose. She must find Ooh-La-La. She will not give up!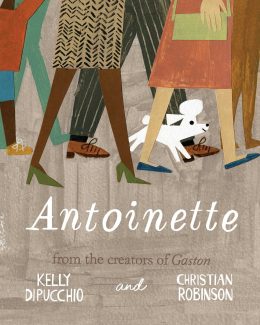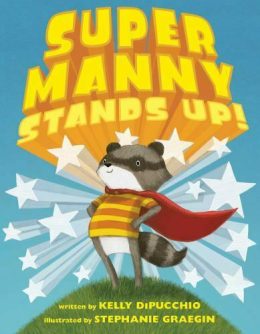 Super Manny Stands Up! By Kelly DiPucchio and Stephanie Graegin
Zombie bears, evil cloud monsters, and alien robots with laser beam eyes are no match for Super Manny. But when Manny encounters a real-life nemesis in the school cafeteria, will he be able to summon his superhero strength to save the day?
Renée Watson
Renée Watson is a #1 New York Times bestselling author, educator, and community activist. Her young adult novel, Piecing Me Together (Bloomsbury, 2017) received a Coretta Scott King Award and Newbery Honor. She has given readings and lectures at many renowned places including the United Nations, the Library of Congress, and the U.S. Embassy in Japan and New Zealand. Her poetry and fiction centers around the experiences of Black girls and women, and explores themes of home, identity, and the intersections of race, class, and gender.
From reneewatson.net
Piecing Me Together by Renée Watson
Jade believes she must get out of her poor neighborhood if she's ever going to succeed. Her mother tells her to take advantage of every opportunity that comes her way. She's tired of being singled out as someone who needs help, someone people want to fix. Jade wants to speak, to create, to express her joys and sorrows, her pain and her hope.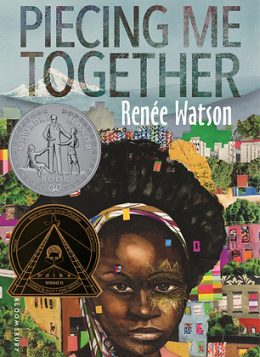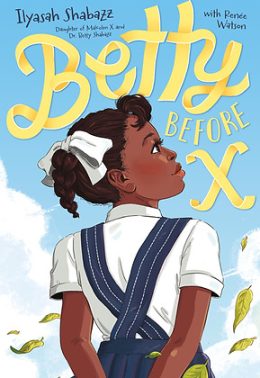 Betty Before X by Ilyasah Shabazz and Renée Watson
In Detroit, 1945, eleven-year-old Betty's house doesn't quite feel like home, she can't shake the feeling that her mother doesn't want her. The singing, the preaching, the speeches at church from guest activists like Paul Robeson and Thurgood Marshall stir African Americans in her community to stand up for their rights. Betty quickly finds confidence and purpose in volunteering for the Housewives League, an organization that supports black-owned businesses. Soon, the American civil rights icon we now know as Dr. Betty Shabazz is born.
Antoinette Portis
Antoinette got a BFA at the UCLA School of Fine Arts and then spent years in the world of design and advertising. She was a creative director, then a VP, at Disney before she took a flying leap to pursue her sixth-grade dream of writing and illustrating picture books. She made her picture-book debut with the New York Times best-selling Not A Box, an American Library Association Seuss Geisel Honor book, and one of the New York Times Ten Best Illustrated Books of the Year. She was a recipient of the 2010 Sendak Fellowship.
From antoinetteportis.com
Not a Box by Antoinette Portis
Inspired by a memory of sitting in a box on her driveway with her sister, Antoinette Portis captures the thrill when pretend feels so real that it actually becomes real—when the imagination takes over and inside a cardboard box, a child is transported to a world where anything is possible.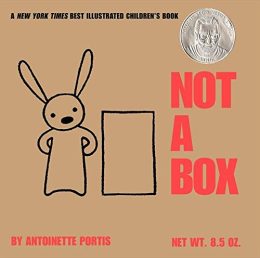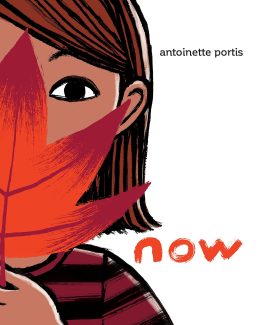 Now  by Antoinette Portis
Follow a little girl as she takes you on a tour through all of her favorite things, from the holes she digs to the hugs she gives in this clever and poignant picture book by award-winning artist Antoinette Portis.
Selina Alko
Growing up in Vancouver, British Columbia with a Turkish Jewish father who spoke seven languages and taught painting, and a Jewish mother who worked in the family's century-old metal recycling business, she was surrounded by the melody of words and stories from different places and varied visual possibilities. "Write what is closest to your heart. What do you care about? What excites you? What makes you feel sad?" said Selina when asked what advice she would give to an aspiring writer.
From selinaalko.com
The Case for Loving by Selina Alko and Sean Qualls
This is the story of one brave family: Mildred Loving, Richard Perry Loving, and their three children. It is the story of how Mildred and Richard fell in love, and got married in Washington, D.C. But when they moved back to their hometown in Virginia, they were arrested (in dramatic fashion) for violating that state's laws against interracial marriage. The Lovings refused to allow their children to get the message that their parents' love was wrong and so they fought the unfair law, taking their case all the way to the Supreme Court - and won!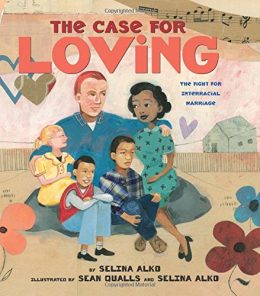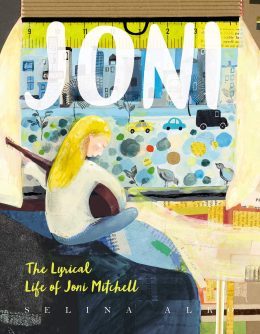 Joni: The Lyrical Life of Joni Mitchell by Selina Alko
Before composing more than two hundred songs, Joni was a young girl from a town on the Canadian prairie, where she learned to love dancing, painting, birdsong, and piano. As she grew up into an artist, Joni took her strong feelings—feelings of love and frustration, and the turbulence that came with being a young woman—and wrote them into vivid songs.
Sandra Boynton
Sandra Boynton is a popular American cartoonist, children's author, songwriter, producer, and director. Since 1974, Boynton has written and illustrated over sixty children's books and seven general audience books, including five New York Times Bestsellers. More than 70 million of her books have been sold, "mostly to friends and family," she says. 
I've written/illustrated a lot of books for discerning children, and some other books for peculiar adults. I wrote my first children's book, Hippos Go Berserk, in 1977 as a January Project while I was still a student the Yale School of Drama. I have no idea why they let me get away with that. Actually, I really wrote my first children's book at age four; it was called The Funny Animal, and the entire text goes: "Once there was a funny animal. One day he had a birthday party. All the animals came. 
from amazon.com and sandraboynton.com
The Going to Bed Book by Sandra Boynton
This classic bedtime story is just right for winding down the day as a joyful, silly group of animals scrub scrub scrub in the tub, brush and brush and brush their teeth, and finally rock and rock and rock to sleep.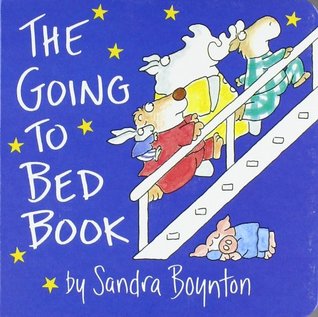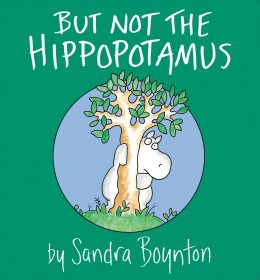 But Not the Hippopotamus by Sandra Boynton
A shy hippo makes a big impact in this Sandra Boynton classic. Serious silliness for all ages. Artist Sandra Boynton is back and better than ever with completely redrawn versions of her multi-million selling board books. These whimsical and hilarious books, featuring nontraditional texts and her famous animal characters, have been printed on thick board pages, and are sure to educate and entertain children of all ages.
Jane Yolen
After college, I moved to New York City and became an editor—writing during lunch breaks and evenings and weekends. I considered myself a poet and a journalist/nonfiction writer. But to my surprise, I became a children's book writer, selling my first book on a cold February day. My 22nd birthday, as a matter of fact. It was called Pirates in Petticoats. 
Jane Yolen's books and stories and poems have won the Caldecott Medal, two Nebula Awards, two Christopher Medals, three World Fantasy Awards, three Mythopoeic Fantasy Awards, two Golden Kite Awards, the Jewish Book Award and the Massachusetts Center for the Book award.
Owl Moon by Jane Yolen and John Shoenherr
Late one winter night a little girl and her father go owling. The trees stand still as statues and the world is silent as a dream. Whoo-whoo-whoo, the father calls to the mysterious nighttime bird.
But there is no answer.
Wordlessly the two companions walk along, for when you go owling you don't need words. You don't need anything but hope. Sometimes there isn't an owl, but sometimes there is.
Distinguished author Jane Yolen has created a gentle, poetic story that lovingly depicts the special companionship of a young child and her father as well as humankind's close relationship to the natural world. Wonderfully complemented by John Schoenherr's soft, exquisite watercolor illustrations, this is a verbal and visual treasure, perfect for reading around and sharing at bedtime.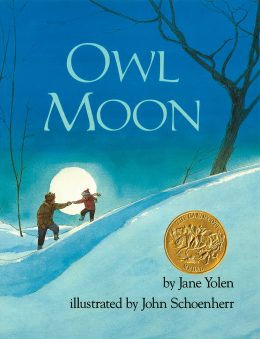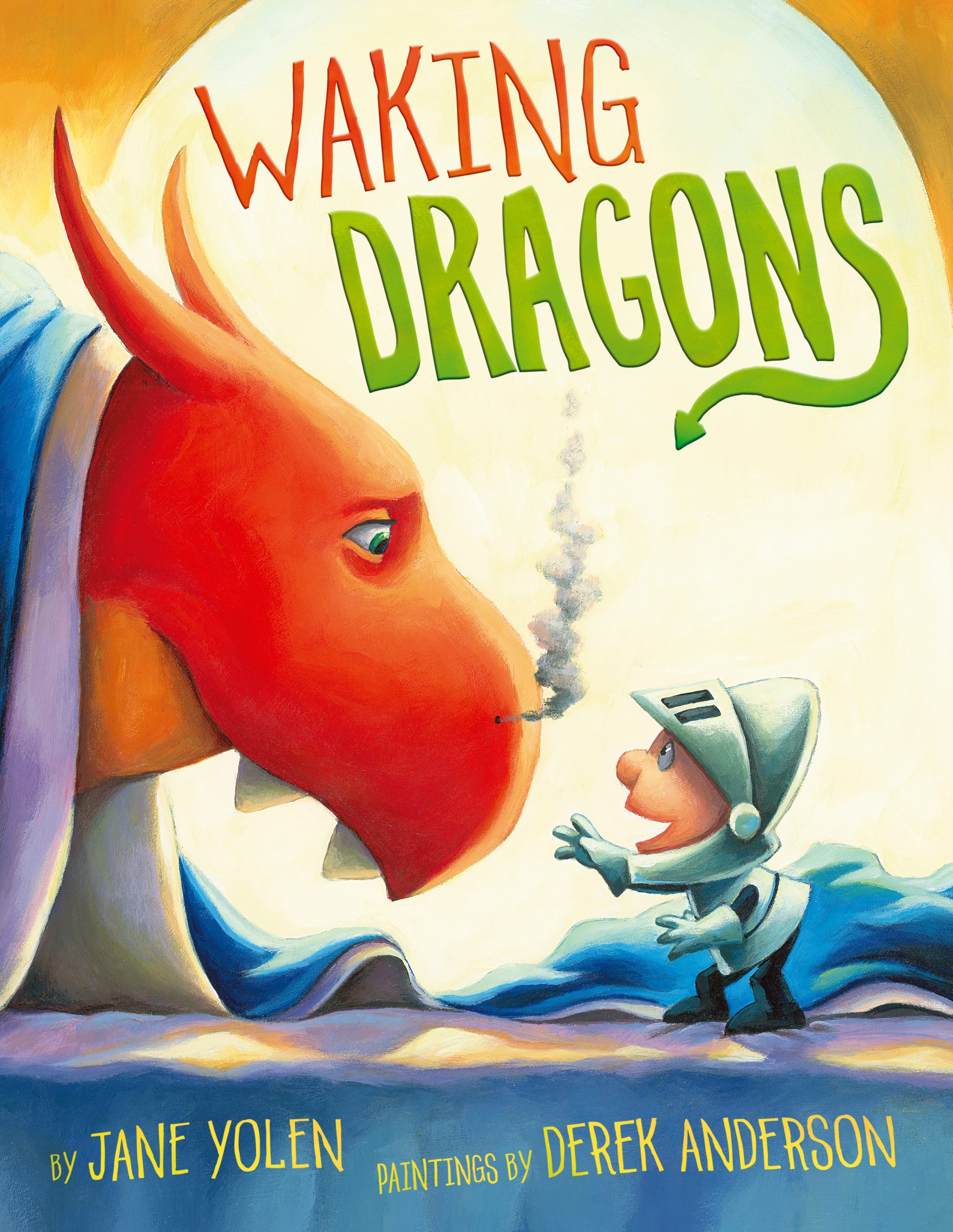 Waking Dragons by Jane Yolen and Derek Anderson
Wake up with a pair of sleepy dragons and the knight who must get them ready for school! From tumbling out of their humongous blankets to devouring a breakfast of catapulted waffles, these characters and their loveable antics fill the pages with luminous color and dragon-size fun. A joyful collaboration between two bestselling talents, author Jane Yolen and illustrator Derek Anderson, this book will make any young reader fly out of bed.