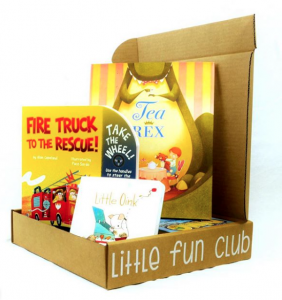 Our monthly subscription boxes of books are a great gift and out goal is to get children reading and to cultivate a love for reading books. We want to make it as convenient as possible to get titles they will love into their hands. Here are some of many reasons why our book subscription packages for kids make a great gift.
First, you can set it up and walk away and be sure you're going to receive a monthly kid box of imagination at your doorstep. We save you from harrowing fights for a parking space in a mall lot! Okay, sure! It's not all that dramatic. However we'd do anything not be in a crowded parking lot.
Our book subscription service gives the option of enjoying those few minutes of quiet that you might need away from your child or a few minutes of bonding with your child depending on the kind of day you have already had! The books included in our packages are an excellent value for the money spent, you will end up saving money if you compare our value to retail prices for the same title. Seriously, our prices per book per box beat Amazon, which is a hard task! If you have forgotten to buy a gift, just tell them it's on the way! 😉
If you are a grandparent, family, or friend who lives far from the kids, monthly box subscription for kids is a great way to connect with them! See what our monthly book subscription service subscribers have to say about our service.
Why Choose LITTLE FUN CLUB?
Unlike other monthly subscription boxes of books for kids or book of the month clubs, we customize each subscription. As a result every subscriber receives a package tailored specifically to their preference. Everyone does not receive the same box of books. Each subscription is customized to the preferences and reading ability of the child. It takes a lot of effort to select books with each child in mind, but ultimately it is what sets us apart. Each box includes hand picked titles that are perfect for the age group of your child, is based on the preferences and feedback that you provide and is the perfect monthly box for kids.
The content of our packages advances with the growth of your the child. As the child ages we advance the books sent in your monthly subscription box – transitioning the content, as a result a child graduates from board books, to picture books, to easy readers, and eventually to chapter books.
You don't have to return the books. They're yours to keep or share.
As a subscriber, if you were to go out of town or need to catch up on reading, you can put your account on hold for a period and start it back up again when you are ready. No need to sign up all over again.
We are here for you. Our staff will pick up the phone, and we will answer your emails. We will do our best to get you what you need. All you need to do is let us know!
So go on, Subscribe! It will be like Christmas every month!