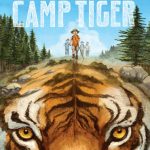 Camp Tiger brought to life by Susan Choi and John Rocco
Every year a boy and his family go camping at Mountain Pond. They see things like an eagle fishing or a salamander with red spots. However, this year is different. To begin with, the boy is going into first grade. His mother is encouraging him to do more things on his own, like his older brother. And what a surprise! This year, a tiger comes to the woods where they are camping. What do you think will happen?
With lyrical prose and dazzling art, Pulitzer Prize finalist Susan Choi and Caldecott-honor winning artist John Rocco have created a moving and joyful dedication to growing up.
Theme: Growing Up, Outdoors, Self-Esteem
Suggested Ages: 4-6