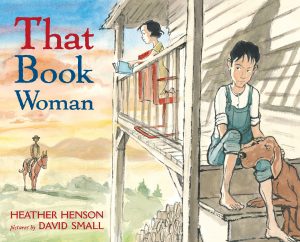 That Book Woman brought to life by Heather Henson & David Small
Ever heard of the Pack Horse Librarians in the Appalachian Mountains of Kentucky? These travelling ladies dubbed "Book Women" braved rough terrain on horseback in good weather and bad to bring books to remote areas. How inspiring! That's the scene we enter.
Our narrator, Cal, is not the reading type. He would much rather help Pap around the farm than sit down in front of a book. But here comes that book woman! He wonders if she is just foolish or the bravest lady he's ever met?
With sweeping landscapes and close-ups in ink and watercolor, this book pays homage to a relatively unknown part of American history and encourages kids who don't like to read – to give it a try!
Theme: History, Reading, Inspiring
Suggested Age: 5 – 8