Why is Reading Important?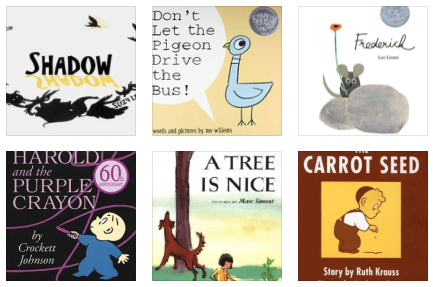 Reading is an important skill and a very important habit at any age. It is never too late to start reading with your child, and it's never too early. Reading has many benefits and we have gone through a whole list of these benefits in an earlier post. Starting to read early on in a child's life improves vocabulary, which in turn boosts comprehension levels. The act of reading itself is an amazing bonding exercise between a parent and a child. It also is an educational activity as opposed to other popular pastimes like watching cartoons or using an app on a smart device.
How Does Reading To Your Toddler Help Them?
A study conducted by Dominic Massaro, a professor emeritus in psychology at the University of California, Santa Cruz found that reading stories aloud to toddlers is extremely important. The results of the study highlight the value of rich read-aloud experiences for vocabulary development and potentially for reading comprehension once written language is acquired. The study showed that there are significant benefits for the children who are read to, including an increase in language skills and vocabulary. These findings are described in terms of a distinction between formal and informal language, which has implications for views of literacy, cognitive and linguistic development, and learning to read.
Reading to your toddler is an excellent way to teach them how to read. When you read with a toddler they really are taking all the aspects of the story that is read to them in learning with every page: from colors, to shapes, to numbers, to attitudes, to manners, etc. It's an interactive activity that you can do with your child, which will gradually help them learn how to read on their own.
1. Pick a comfortable environment to read
Choose a comfortable environment and create a distraction free reading process. It's important that your toddler is fully focused on the activity at hand, as much as possible of course, as parents we understand that keeping a toddler's attention on a given task might be a challenge, but remember, the rewarding part for them in this process is the extra time with you and a comfortable environment along with emotional connection through reading will make the reading process enjoyable and something they will look forward to every time.
2. Read WITH your toddler not TO your toddler
Experts say that reading a story with a child is what you should strive for, in other words don't read the story to your toddler but rather with your toddler, get your kiddo involved in the story, pay attention to his or her reactions, try to understand what makes them more engaged in the reading process, capitalize on that and minimize the things that might irritate them. If a specific book or story does not work, change it. At this stage consistency is a ket and it's important that you read with them and keep them involved in the process.
3. Ownership and Engagement
Get your child to flip the pages, choose the book, ask them about the illustrations on the pages, again, pay attention to their reaction and expand on the positive, try to get them to be a part of the process. This will create an inherent feeling of ownership, which in turn will help to make the story time a success.
4. Enjoy the journey, not the destination
Just like the popular saying states, try to enjoy the process and not read fast through the story to get to the end. Read slower, accent on the funny or whimsical portions of the story, sing some portions and just enjoy the precious time with your angel.
5 Make it Fun and rewarding
The goal is to create a process where your toddler is looking forward to these story times. Because they are constantly looking for your attention they will be enjoying the extra time and making the reading process fun and engaging, following our tips will ensure that you two are having the best time possible.
What Should You Read When You Want To Read with Your Toddler? And what should you avoid?
There are timeless classics that are just amazing for this age and some new titles that will make the task of making the story time fun a simple undertaking. But before we jump to the list of recommended books, here is what you should avoid.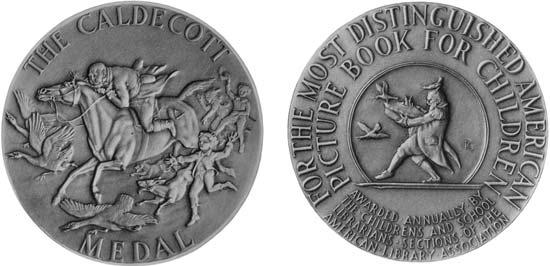 When you see a book with a lot of award stickers on the cover, take a look, but be wary of awards that are simple pay to play marketing techniques, except the awards given by the American Library Association (ALA). ALA gives annual awards for best picture books called Caldecott Medal and Caldecott Honors that is awarded annually to the artist of the most distinguished American picture book for children published by an American publisher in the United States in English during the preceding year. The Caldecott Honor books are also named, these are also books that are truly distinguished. Also try to avoid books based on TV characters, books based on TV characters are an easy way to capitalize on already created and usually popular storyline and graphics, however research shows that these can make kids want more TV time so try to keep these types of books at a minimum.
Here is a list of ten picture books for an enjoyable and fun story time: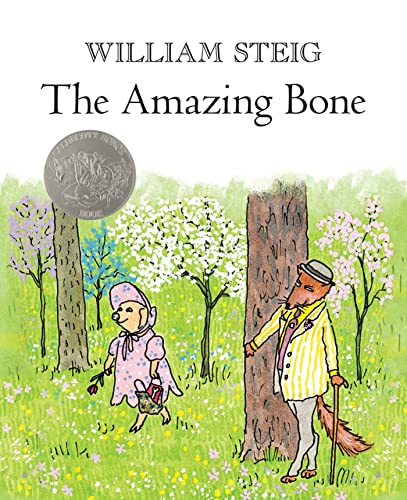 1. The Amazing Bone by William Steig
It's a bright and beautiful spring day, and Pearl, a pig, is dawdling on her way home from school. Most unexpectedly, she strikes up an acquaintance with a small bone. "You talk?" says Pearl. "In any language," says the bone. "And I can imitate any sound there is." (Its former owner was a witch.) Pearl and the bone immediately take a liking to each other, and before you know it she is on her way home with the bone in her purse, left open so they can continue their conversation. Won't her parents be surprised when she introduces her talking bone!
But before that happy moment comes, the resourceful bone must deal with a band of highway robbers in Halloween masks and, worse, a fox who decides that Pearl will be his main course at dinner that night. And deal it does, with gambits droll and thrilling.
2. The Carrot Seed by Ruth Krauss
When a little boy plants a carrot seed, everyone tells him it won't grow. But when you are very young, there are some things that you just know, and the little boy knows that one day a carrot will come up. So he waters his seed, and pulls the weeds, and he waits...
This beloved classic celebrates patience, determination, and believing in yourself. First published in 1945 and never out of print, the timeless combination of Ruth Krauss's simple text and Crockett Johnson's eloquent illustrations creates a triumphant and deeply satisfying story for readers of all ages.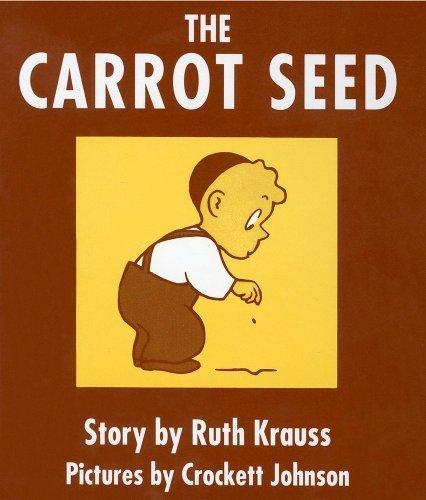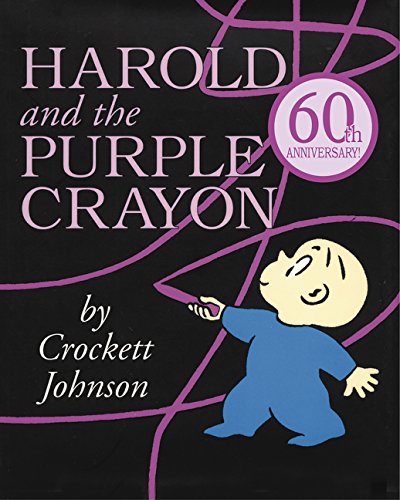 3. Harold and the Purple Crayon by Crockett Johnson
From beloved children's book creator Crockett Johnson comes the timeless classic Harold and the Purple Crayon! This imagination-sparking picture book belongs on every child's digital bookshelf.
One evening Harold decides to go for a walk in the moonlight. Armed only with an oversize purple crayon, young Harold draws himself a landscape full of wonder and excitement.
Harold and his trusty crayon travel through woods and across seas and past dragons before returning to bed, safe and sound. Full of funny twists and surprises, this charming story shows just how far your imagination can take you.
4. A Tree is nice by Janice May Udry
A Tree Is Nice is a classic tale about the beauty of the everyday world. "Simont's watercolors perfectly complement the poetic simplicity of the text, allowing the reader room to engage in his or her own imaginative embroiderings about trees" (Children's Books and Their Creators).
Trees are beautiful. They fill up the sky. If you have a tree, you can climb up its trunk, roll in its leaves, or hang a swing from one of its limbs. Cows and babies can nap in the shade of a tree. Birds can make nests in the branches. A tree is good to have around. A tree is nice.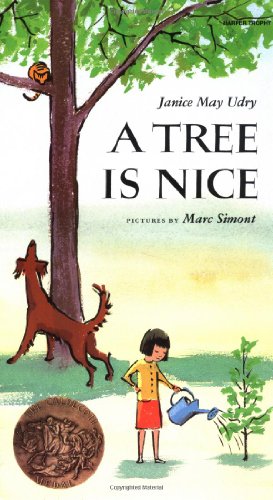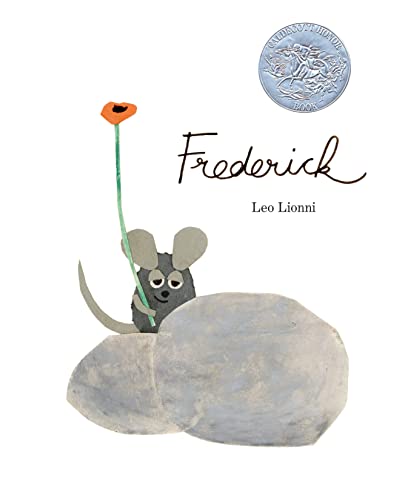 5. Frederick by Leo Lionni
Leo Lionni's Caldecott Honor–winning story about a little mouse who gathers something unusual for the long winter is celebrating its fiftieth birthday!
Winter is coming, and all the mice are gathering food... except for Frederick. But when the days grow short and the snow begins to fall, it's Frederick's stories that warm the hearts and spirits of his fellow field mice. Winner of a 1967 Caldecott Honor, Frederick has been cherished by generations of readers.
6. Caps for Sale: A Tale of a Peddler Some Monkeys and Their Monkey Business by Esphyr Slobodkina
Children will delight in following the peddler's efforts to outwit the monkeys and will ask to read it again and again. Caps for Sale is an excellent easy-to-read book that includes repetition, patterns, and colors, perfect for early readers.
This tale of a peddler and a band of mischievous monkeys is filled with warmth, humor, and simplicity and also teaches children about problem and resolution.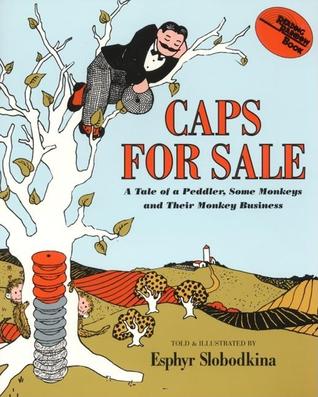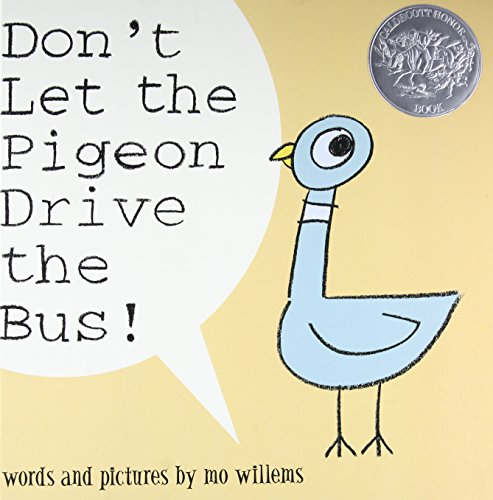 7. Don't Let The Pigeon Drive The Bus! by Mo Williams
When a bus driver takes a break from his route, a very unlikely volunteer springs up to take his place-a pigeon! But you've never met one like this before. As he pleads, wheedles, and begs his way through the book, children will love being able to answer back and decide his fate.
In his hilarious picture book debut, popular cartoonist Mo Williams perfectly captures a preschooler's temper tantrum.
8. Not a Box by Antoinette Portis
A box is just a box...unless it's not a box. From mountain to rocket ship, a small rabbit shows that a box will go as far as the imagination allows.
Inspired by a memory of sitting in a box on her driveway with her sister, Antoinette Portis captures the thrill when pretend feels so real that it actually becomes real—when the imagination takes over inside a cardboard box, and through play, a child is transported to a world where anything is possible.
After reading this book aloud, continue the fun by drawing shapes like a triangle or circle, and asking your child what the triangle is NOT!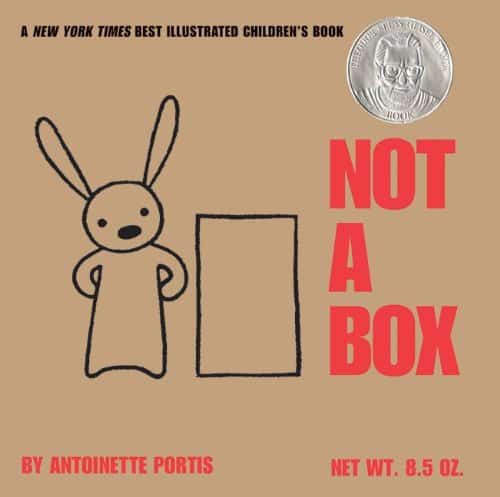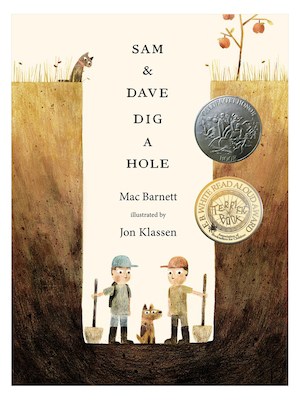 9. Sam and Dave Dig a Hole by Mac Barnett and Jon Klassen
Sam and Dave are on a mission. A mission to find something spectacular. So they dig a hole. And they keep digging. And they find... nothing. Yet the day turns out to be pretty spectacular after all. Attentive readers will be rewarded with a rare treasure in this witty story of looking for the extraordinary — and finding it in a manner you'd never expect.
10. Shadow by Suzy Lee
A dark attic. A light bulb. An imaginative little girl.
Internationally acclaimed artist Suzy Lee uses these simple elements to create a visual tour de force that perfectly captures the joy of creative play and celebrates the power of imagination. Stunning in their simplicity, Lee's illustrations, in just two shades of color, present an adventure that begins and ends with the click of a light bulb.