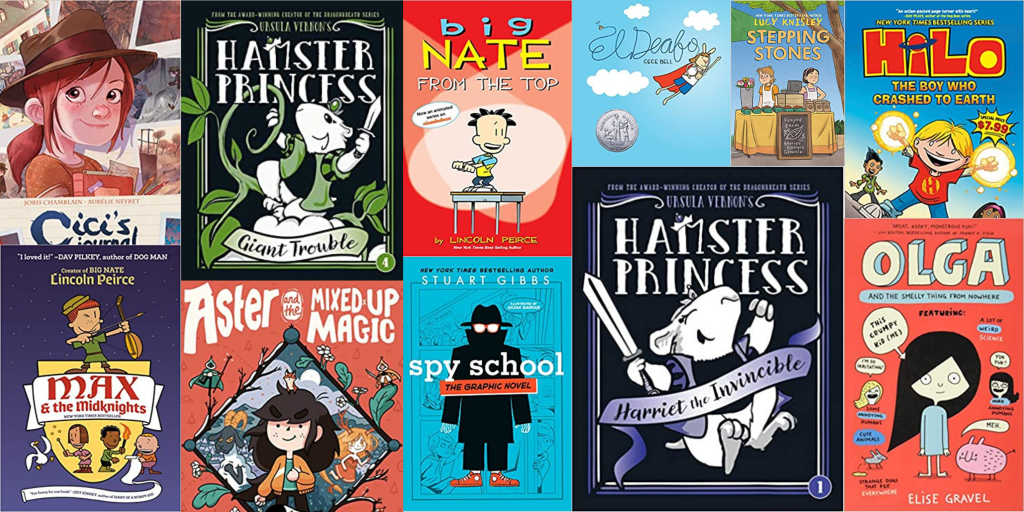 If you are struggling to get your child to transition to novels, use pictures! The popularity of the graphic novel as a storytelling device is increasing with each passing year. This might partly be due to the resurgence of comic book characters in tv and film.
A benefit of having pictures alongside the story is reinforcing social cue information. Seeing facial expressions alongside descriptive text of the emotional state of the character is a great developmental tool. In the age of technology and social distancing, the earlier we can reinforce social cues, the better. There is a higher the likelihood of your child developing healthy connections with peers, friends, and family.
Graphic novels come in many different styles and cover different genres, too. Comic books tend to have a serialized structure with a cliffhanger at the end of most. Graphic novels, on the other hand, can be treated as stand alone narratives. Even with recurring characters, each book is free standing.
Here are 10 graphic novels that we have had in our boxes: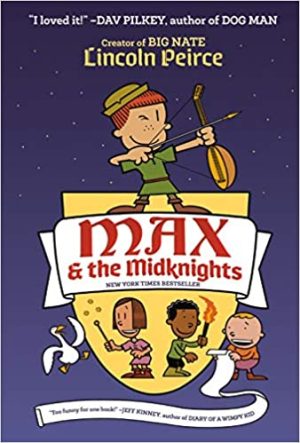 Max and the Midknights by Lincoln Peirce
Max wants to be a knight! Too bad that dream is about as likely as finding a friendly dragon. But when Max's uncle Budrick is kidnapped by the cruel King Gastley, Max has to act...and fast! Joined by a band of brave adventurers--the Midknights--Max sets out on a thrilling quest: to save Uncle Budrick and restore the realm of Byjovia to its former high spirits!
Magic and (mis)adventures abound in this hilarious illustrated novel from the New York Times bestselling creator of the Big Nate series, Lincoln Peirce.
Olga and the Smelly Thing from Nowhere by Elise Gravel
Olga and the Smelly Thing from Nowhere is jam-packed with fun: vibrant illustrations, word bubbles, quirky humor, olgamus facts, and plenty of excitement for readers who love making discoveries and meeting new friends. Olga is a charming combination of independent, curious, and smart—making her the coolest girl scientist around—perfect for fans of Dork Diaries and Captain Underpants.
When Olga crosses paths with a weird creature and becomes the first kid to discover the species olgamusridiculus, she is ecstatic! What does an olgamus eat? How does it poop? Why does its burp sound like the word rubber? With her trusty observation notebook and the help of a librarian, a shopkeeper, and some friends, Olga sets out to do science—learning the facts about her smelly, almost-furry pal and searching for him when he goes missing. The scientific method is the best way to discover anything!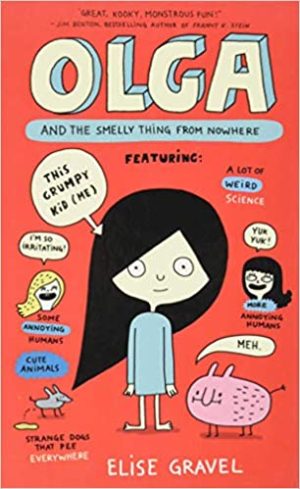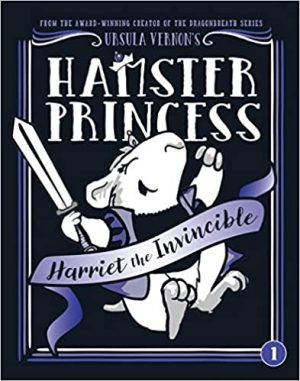 Hamster Princess: Harriet the Invincible by Ursula Vernon
Harriet Hamsterbone is not your typical princess. She may be quite stunning in the rodent realm (you'll have to trust her on this one), but she is not so great at trailing around the palace looking ethereal or sighing a lot. She finds the royal life rather . . . dull. One day, though, Harriet's parents tell her of the curse that a rat placed on her at birth, dooming her to prick her finger on a hamster wheel when she's twelve and fall into a deep sleep. For Harriet, this is most wonderful news: It means she's invincible until she's twelve! After all, no good curse goes to waste. And so begins a grand life of adventure with her trusty riding quail, Mumfrey...until her twelfth birthday arrives and the curse manifests in a most unexpected way.
Perfect for fans of Babymouse and Chris Colfer's Land of Stories, this laugh-out-loud new comic hybrid series will turn everything you thought you knew about princesses on its head.
El Deafo by Cece Bell
Starting at a new school is scary, especially with a giant hearing aid strapped to your chest! At her old school, everyone in Cece's class was deaf. Here, she's different. She's sure the kids are staring at the Phonic Ear, the powerful aid that will help her hear her teacher. Too bad it also seems certain to repel potential friends.
Then Cece makes a startling discovery. With the Phonic Ear she can hear her teacher not just in the classroom but anywhere her teacher is in the school—in the hallway . . . in the teacher's lounge . . . in the bathroom! This is power. Maybe even superpower! Cece is on her way to becoming El Deafo, Listener for All. But the funny thing about being a superhero is that it's just another way of feeling different . . . and lonely. Can Cece channel her powers into finding the thing she wants most, a true friend?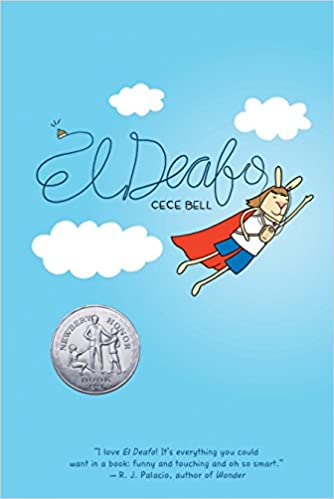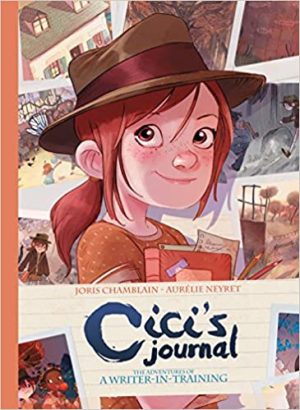 Cici's Journal by Joris Chamblain and Aurelie Neyret
Cici dreams of being a novelist. Her favorite subject: people, especially adults. She's been watching them and taking notes. Everybody has one special secret, Cici figures, and if you want to write about people, you need to understand what's hiding inside them. But now she's discovered something truly strange: an old man who disappears into the forest every Sunday with huge pots of paint in all sorts of colors. What is he up to? Why does he look so sad when he comes back?
In a graphic novel interwoven with journal notes, scrapbook pieces, and doodles, Cici assembles clues about the odd and wonderful people she's uncovered, even as she struggles to understand the mundane: her family and friends.
Aster and the Mixed-Up Magic by Thom Pico and Karensac
Magic turned Aster's life upside-down -- and it's not over! Get ready for more family, more fun, and even more magic in this graphic novel adventure.
Moving to the middle of nowhere has been less of a disaster than Aster expected. Her mom's science experiments are actually pretty cool; her dad's cooking has gotten much better; her new dog is possibly the best canine companion anyone could ask for.
And she's gotten to save the day -- and her family -- and the whole valley she lives in -- from various magical calamities in what even she has to admit were extremely fun adventures. So now she can have a break, right?
Guess what?
Oh no; things get even more interesting.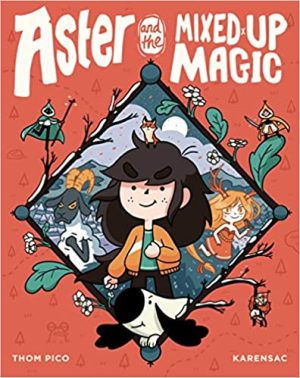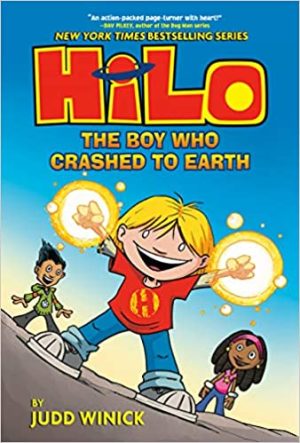 Hilo: The Boy Who Crashed to Earth by Judd Winnick
Take off on an action packed adventure with HILO Book 1! Dog Man meets Big Nate in this hilarious New York Times bestselling graphic novel series that kids love!
BOOM! CLANG! CRASH! D.J. and Gina are totally ordinary kids. But Hilo isn't! Hilo just fell out of the sky and doesn't know where he came from, or what he's doing on Earth. (Or why going to school in only your underwear is a BAD idea!) . . . But UH-OH, what if Hilo wasn't the only thing to fall to our planet? Can the trio unlock the secrets of Hilo's past? Can Hilo survive a day at school? Find out in HILO-a laugh-out-loud, epic story of friendship! Adventure! (And the occasionaly mutant space robot).
Spy School the Graphic Novel by Stuart Gibbs and Anjan Sarkar
Ben Ripley may only be in middle school, but he's already pegged his dream job: CIA or bust. Unfortunately for him, his personality doesn't exactly scream "secret agent." In fact, Ben is so awkward, he can barely get to school and back without a mishap. Because of his innate nerdiness, Ben is not surprised when he is recruited for a magnet school with a focus on science—but he's entirely shocked to discover that the school is actually a front for a junior CIA academy. Could the CIA really want him?
Actually, no. There's been a case of mistaken identity—but that doesn't stop Ben from trying to morph into a supercool undercover agent, the kind that always gets the girl. And through a series of hilarious misadventures, Ben realizes he might actually be a halfway decent spy…if he can survive all the attempts being made on his life! With action-packed, eye-catching art, join Ben Ripley as he survives his first year at the Academy of Espionage.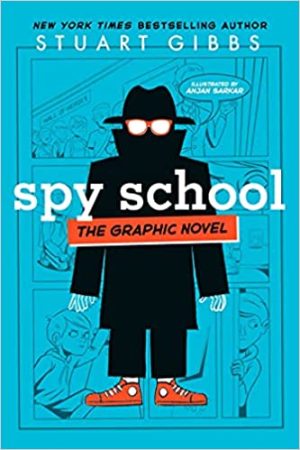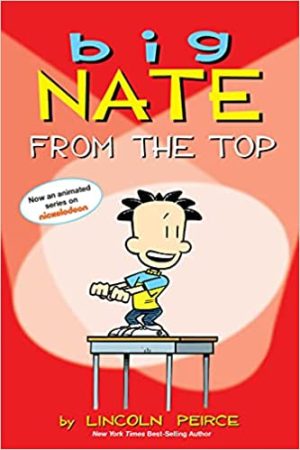 Big Nate: From the Top by Lincoln Peirce
Big Nate is taking it from the top—the top of the troublemaker's list!
Nate Wright is eleven years old, four-and-a-half feet tall, and the all-time record holder for school detentions in school history. He's a self-described genius and sixth-grade Renaissance man. Middle-grade kids everywhere can relate to Big Nate's daily battle against overzealous teachers, backbreaking homework, wimpy cafeteria food, and all-around conventionality. This collection features cartoonist Lincoln Peirce's daily and Sunday comic strips packed with his vintage flair and insights into school humor.
Stepping Stones by Lucy Knisley
Jen did not want to leave the city. She did not want to move to a farm with her mom and her mom's new boyfriend, Walter. She did not want to leave her friends and her dad.
Most of all, Jen did not want to get new "sisters," Andy and Reese.
As if learning new chores on Peapod Farm wasn't hard enough, having to deal with perfect-at-everything Andy might be the last straw for Jen. Besides cleaning the chicken coop, trying to keep up with the customers at the local farmers' market, and missing her old life, Jen has to deal with her own insecurities about this new family . . . and where she fits in.