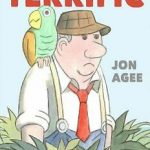 Terrific brought to life by Jon Agee
With Eugene, everything merits his pessimism and a very sarcastic "TERRIFIC". He is so cynical that he cannot even crack a smile when he wins a free trip to sunny Bermuda. What do you know – He ends up being stranded on an island on the way there. What do you imagine is the one word he says? Lucky enough, he comes across a talking parrot who just might be the answer to all his problems.
With his signature wit and illustrative style, Jon Agee creates a story that is equal parts humorous and equal parts charming. Trust us, you will be cheering for our grumpy old man by the end of it!
Theme: Humor, Self-Esteem, Adventure
Suggested Age: 5 -7