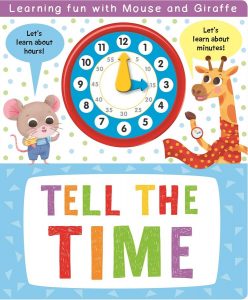 Tell The Time brought to life by Igloo Books
No better way to learn counting and reading time than by touch and feel! This book is fitted with a colorful clock with moveable hands to play and learn with.
Two of the cutest characters teach you all about the parts of a clock, the direction in which it moves, and how to read the clock in real life scenarios! Where will the hands of the clock be when someone says "A quarter till.." or "Ten minutes to…"? Here's a great way to learn!
Theme: Time, Counting, Activity
Suggested Age: 0 – 5