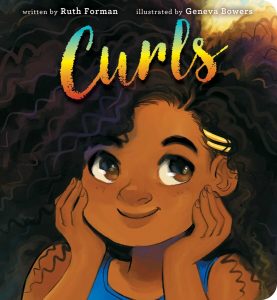 Curls brought to life by Ruth Forman and Geneva Bowers
How very important it is for girls and boys alike to see themselves in the books they see at a young age. Additionally, when they are celebrated for who they are, it packs a heavy punch toward their positive self-image!
Curls is a gorgeous celebration of African American girls and the beauty of their hair – all the different textures, colors, and styles! Using minimal rhyming words and bright illustrations we see four black girls getting ready for their day. The joy in their eyes is language enough to bring self-love to little girls!
Theme: Girls, Culture, Self-Esteem
Suggested Age: 0-3